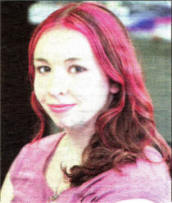 Helen Blackstock, 16, recently spent her work experience at the Star. She is a pupil at the Rudolf Steiner School in Holywood.
Q&A
What do you like doing on your day off?
Reading, painting and writing short stories
Q&A
If you were to choose your favourite meal what would it be, where and why?
A meal at the Ginger Root Indian restaurant in Belfast. I like to try different dishes each time I am there. The food is great.
Q&A
What has been your proudest moment?
Passing my piano exam.
Q&A
What was the most frightening moment of your life?
When my Grandmother fell and hit her head on a pavement.
Q&A
How would you describe your taste in clothes?
Casual and colourful.
Q&A
What would you do if you won a million pounds?
Buy a house in France, write, paint and draw until the money runs out.
Q&A
What was your most embarrassing moment?
Falling over in class.
Q&A
What music do you like?
Sixties music.
Q&A
What sports person do you most admire?
My jujitsu leader David Tony.
Q&A
Describe your best ever holiday. What would your dream holiday be?
When I was in Florida last year with a friend. It was a fantastic experience. I would love to go to the Caribbean.
Q&A
What is your greatest remaining ambition?
To write and publish a book.
Q&A
If you were on a desert island what three things would you like to take with you?
Hunter S Thompson's The Rum Diary, CD player and Jefferson Airplane CD.
FAVOURITE THINGS.....
| | |
| --- | --- |
| Car | The old mini |
| Film | Brick |
| Comedian | Jo Brand |
| CD | Jeff Buckley's Grace |
| Book | Nots and crosses |
| Actor | Johnny Depp |
| Actress | Chistina Ricci |
| Drink | J20 with a dash of blackcurrant |
Ulster Star
07/07/2006