Q&A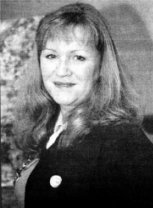 JANICE Lightowler, 39, is a Guider in Charge at First Moira Guides. She is a professional artist and lives in Moira with her husband Brian and three children Nathan, Naomi and Bethany.
What do you like doing on your day off?
I like spending time going for walks with my family. I love visiting country parks and the Mourne mountains and having picnics. I always carrying a sketch book and my camera when I am out walking - just in case I see something I want to draw
What's your favourite meal?
A big pot of stew cooked over an open in the middle of a field The smell is unique and the taste is beautiful. If you are with a big group of people the craic is always great.
What has been your proudest moment.
I was awarded the 'Star of Merit the highest level of personal courage and endurance to be given by the Guiding Association. I had chronic spinal surgery and continue to have chronic pain but have kept on guiding and am very proud of this fact.
What was your most frightening moment?
When the doctors thought that my back had broken again when I had my first child but thankfully after tests were carried out I was told that it hadn't.
How would you describe your taste in clothes?
I am most comfortable in hiking boots and shorts but I do like to dress up occasionally.
What would you do if you won a million pounds?
I would put the money into repairing Lorne - a 21 acre estate with a house and grounds that provide excellent facilities for all types of guiding activities. I would also set up bursaries for guiders as all the work done by the guiders is voluntary and of course I would share it with my family.
What was your most embarrassing moment?
When I was a young guide at the age of 12, my mother who was also a guider, thought it would be funny to hoist my bra and pants to the top of a flag pole.
What music do you like?
Anything and everything that has a beat.
Who do you most admire?
Lord and Lady Baden-Powell who started up the Guides. They realised that young people needed something to do and look what their vision has achieved today.
Describe your best ever holiday.
I really like going on camping holidays. When I was taking my Quarter Test, which is an outdoor cooking qualification, I had to prepare a three course meal for the examiners and the guides. It was pouring with rain but one of the most memorable camping trips I've ever had. A dream holiday would be to go away camping and for the weather to be good.
What is your greatest remaining ambition?
To complete the level two qualification in a guiding walking scheme recognised by UK mountaineering.
If you could spend a day with a celebrity whom would you choose?
I wouldn't choose a celebrity. I meet so many guides with major disabilities and seeing them cope with everyday life is humbling and I would definitely choose to spend time with one of them.
If you were stranded on a desert island what three things would you want with you?
A container to cook in and hold water, a box of matches and a tent.
Ulster Star
27/10/2006