JENNY MONROE
asks the questions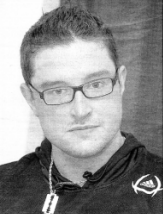 Jonathan Poots, 28, is a kick boxing coach at Dromore Community Centre. He lives in Dromore with his wife Lisa and works as a site foreman in Ballyclare.
Q&A
What do you like doing on your day off?
I like playing my guitar and spending time with my wife. I also enjoy climbing the Mourne Mountains.
Q&A
Can you describe your favourite meal, where and why?
A steak dinner at Clenaghans in Aghalee. I enjoy going there as the food and service is hard to beat. The atmosphere is really nice too.
Q&A
What is your most embarrassing moment?
Walking into the ladies toilets in a hotel.
Q&A
Have you any remaining ambition?
To be happy.
Q&A
What has been your proudest moment?
When I got married to my beautiful wife.
Q&A
How would you describe your taste in clothes?
Casual. I like wearing camouflage gear and biker jackets.
Q&A
What would you do if you won a million pounds?
I'd put it in the bank. I'd probably finish off my house, go to Corfu on holiday and maybe open up a kick boxing school.
Q&A
What has been your scariest moment?
Apart from doing this interview I would say it was when I was 14 and my father passed away. Not knowing what the future would be like without him was terrible.
Q&A
Describe your best holiday?
My honeymoon in Mauritius was amazing. It was paradise. The food, the people and the weather were all superb.
Q&A
If you were on a desert island what three things would you like to take with you?
My wife, guitar and a book on escaping desert islands.
Q&A
If you could spend a day with a celebrity whom would you choose?
Sir Randolph Fiennes because I admire him for all his adventures.
Q&A
Who is your music idol?
Billy Gibbons a famous guitarist from the band Z Z Top.
Ulster Star
03/03/2006