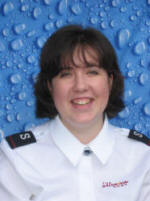 Captain Kat McLean, 22, of the Salvation Army has been appointed to Minister at Lisburn's Citadel. She will share her appointment with her husband Captain John. Kat has two daughters and lives in Lisburn.
Q&A
What do you like doing on your day off?
I like to spend time with my family in my free time. I enjoy doing things like going to the park with my children and shopping.
Q&A
If you were to choose your favourite meal what would it be, where and why?
I love Chinese food. The Orient Express in Lisburn is my favourite Chinese restaurant. I usually order Chicken Chow mein and chips.
Q&A
What has been your proudest moment?
Having both of my children.
Q&A
What was the most frightening moment of your life?
Again, having my children.
Q&A
How would you describe your taste in clothes? What's the most you ever spent on a single item?
I am not an extravagant person and don't like spending too much money on clothes. I like to keep-up-to-date with fashion but being a busy mum my clothes need to be comfortable and practical.
Q&A
What would you do if you won a million pounds?
Pay off our family's mortgages, make sure the kids have everything they need and give plenty to the Church.
Q&A
What was your most embarrassing moment?
The other week I was rushing to Church with the children and my heel broke on my shoe - I had to preach without one of my shoes on.
Q&A
What music do you like?
I like Daniel and Natasha Bedingfield's music.
Q&A
If you were stranded on a desert island, what three things would you want with you?
Make-up, teddy bear and a phone.
Q&A
Describe your best ever holiday. What would your dream holiday be?
I enjoyed a recent family holiday to Butlins. It was stress free and plenty to do to keep the children amused. I would love to take the children to Disneyland in Florida.
Q&A
What is your greatest remaining ambition?
I want to jump out of an aeroplane.
Q&A
If you could spend a day with a celebrity whom would you choose?
I would choose Kylie Minogue as she has been through a lot in her battle against breast cancer.
FAVOURITE THINGS.....
| | |
| --- | --- |
| Car | I wouldn't mind a convertible sports car. |
| Film | City of Angels |
| Comedian | Billy Connolly |
| CD | Natasha Bedingfield's `Unwritten' |
| Book | The Provocative Church |
| Actor | Hugh Grant |
| Actress | Julia Roberts |
| Drink | Pepsi Max |
Ulster Star
18/08/2006