Q&A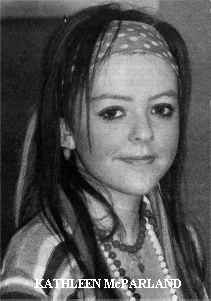 KATHLEEN McParland, 18, is a singer in the band Barleybeat. She is training to be a journalist at Upper Bann Institute and is completing her work placement is with the Star. She plays various instruments with the flute being her favourite.
What do you like doing on your day off?
On my days off I like to catch up with my friends and find out the latest gossip.
If you were to choose your favourite meal what would it be, where and why?
Oh you can't beat my dad's home made chips. I have to say my mum's are nice but sometimes she makes them too chunky and there's nothing worse than a hard chip.
What has been your proudest moment?
Passing my driving test as it did take me four attempts but I was proud that I got it in the end.
What was the most frightening moment of your lite?
Being in a car accident - it was so scary and I hope I never experience anything like it again.
How would you describe your taste in clothes?
I think I have a good taste in clothes. I like to match and accessorise. I love my designers but I also love Primark.
What would you do if you won a million pounds?
I would have to give some to family and then go mad for a while and travel and see the world and with the left over money invest it for when I am older.
What was your most embarrassing moment?
Having a bird poo on my head in front of my friends.
What music do you like?
I like a bit of everything. I sing mostly country but I like to write my own. My favourite artist would have to be Charlie McParland
What sports person do you most admire?
Motor Bike racer Edward Haddock Jnr
Describe your best ever holiday. What would your dream holiday be?
My best ever holiday was when I went to Gran Canaria with my family. I really had a ball there. The weather was really hot but it was worth it for the tan I got. My dream holiday would be to go to Nashville and sing with the stars.
What is your greatest remaining ambition?
To be successful in singing and following my dream to be a journalist.
If you could spend a day with a celebrity whom would you choose?
It would me my dream to meet Ant and Dec as I love them to bits. I would prefer Dec as he is cuter.
If you were stranded on a desert island what three things would you want with you?
My phone...change of clothes and my makeup as you never know who will come to save you!
FAVOURITE THINGS.....
| | |
| --- | --- |
| Car: | My wee pink car |
| Film: | My Girl and Dirty Dancing |
| Comedian: | Peter Kay |
| CD: | Barleybeat |
| Book: | Blood Brothers |
| Actor: | Tom Cruise |
| Actress: | Catherine Tate |
| Drink: | Cider and Blackcurrant and pear cider |
Ulster Star
22/12/2006