JENNY MONROE
asks the questions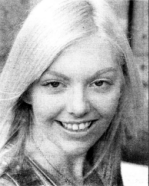 Lisa Dunn, 17, is Miss Teen Lisburn and recently won the Miss Cover Girl title at the Miss Teen Northern Ireland competition.
Q&A
What do you like doing on your day off?
Relaxing with my friends and family. I like to have a long lie-in and then go out for lunch. I enjoy shopping too.
Q&A
If you were to choose your favourite meal what would it be, where and why?
I really like the chicken and black bean sauce from the Dragon King Chinese just off the Knockmore Road. I am a regular customer. The food is very tasty.
Q&A
What has been your proudest moment?
When the Deputy Mayor of Lisburn presented me with my sash and tiara after I won the Miss Teen Lisburn Title.
Q&A
What was the most frightening moment of your life?
My uncle is a painter and decorator and when I was a child he mislaid the keys from the house he was working in so he asked my mum if he could borrow me to squeeze through a tiny window. I remember being frightened that somebody might mistake me for a burglar.
Q&A
How would you describe your taste in clothes?
I like anything that is pink and glam. I enjoy finding a bargain.
Q&A
What would you do if you won a million pounds?
I would give money to charity and go on holiday with my family. I've always wanted a swimming pool at home so I would buy a house with one.
Q&A
What was your most embarrassing moment?
When I burnt microwave chips and destroyed the microwave.
Q&A
What music do you like?
R'n'B. I like Hip Hop music too.
Q&A
What sports person do you most admire?
Christiano Ronaldo from Manchester United. Simply because I find him attractive. I'm not info sports.
Q&A
Describe your best ever holiday. What would your dream holiday be?
I went to the Dominican Republic last year with my family and had such a great time. We spent two weeks relaxing in luxury and the weather was amazing. I would love to go to Barbados.
Q&A
What is your biggest ambition?
For my family and me to be happy and healthy.
Q&A
If you were on a desert island what three things would you like to take with you?
Fishing rod, hair straighteners and my granny.
Q&A
If you could spend a day with a celebrity whom would you choose?
Oh definitely Brad Pitt as he is so good looking and I'd love to see what his life is like.
MY FAVOURITE THINGS.....
| | |
| --- | --- |
| Car | Rolls Royce |
| Film | The Notebook |
| Comedian | Jonathan Ross |
| CD | Any of Jennifer Lopez's |
| Book | The lion, the witch and the wardrobe |
| Actor | Tom Cruise |
| Actress | Angelina Jolie |
| Drink | Apple juice |
Ulster Star
26/05/2006