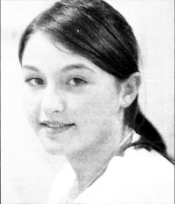 Lucy Porter, 15, recently spent a week in the Star's editorial department. She lives in Ballinderry and is a pupil at Crumlin High School.
Q&A
What do you like doing on your day off?
Shopping and spending time with my friends and family.
Q&A
If you were to choose your favourite meal what would it be, where and why?
I really enjoy the beef curry and fried rice at Bauhinia Palace Chinese restaurant in Moira. The food is delicious and the restaurant is lovely.
Q&A
What has been your proudest moment?
Becoming a school prefect.
Q&A
What was the most frightening moment of your life?
During a thunderstorm when I was on holiday in France.
Q&A
How would you describe your taste in clothes?
Fashionable - I like to wear trendy clothes.
Q&A
What would you do if you won a million pounds?
Buy a car and clothes and give some money to charity and my family.
Q&A
What was your most embarrassing moment?
When I tripped over a bag in a maths class.
Q&A
What music do you like?
Anything except country.
Q&A
What sports person do you most admire?
I'm not into sports but I do like the Welsh rugby player called Mike Phillips.
Q&A
Describe your best ever holiday.
What would your dream holiday be?
Q&A
I love going to France - it's so relaxing.
I would like to go to Los Angeles to see what it's like.
Q&A
What is your greatest remaining ambition?
To be a journalist.
Q&A
If you were on a desert island what three things would you like to take with you?
CD player, straighteners and a book.
Q&A
If you could spend a day with a celebrity whom would you choose?
Kelly Clarkson would be interesting.

FAVOURITE THINGS.....
| | |
| --- | --- |
| Car | The new Bentley |
| Film | Beaches |
| Comedian | Peter Kay |
| CD Pink's | `I'm not dead.' |
| Book | The lovely bones |
| Actor | Sean Hayes - Jack in Will and Grace |
| Actress | Megan Mullally - Karen in Will and Grace |
Ulster Star
30/06/2006