Q&A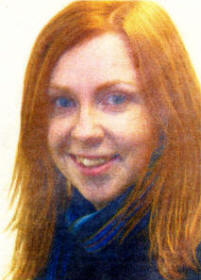 MANDY Baxter, 26, grew up in Lisburn but now is a New Frontiers church worker in South Africa where she counsels people affected by HIV.
What do you like doing on your day off?
Hanging out with friends and going to the north coast when I am back in Northern Ireland. When I have free time in South Africa I enjoy going to the beach as I am based near the coast.
If you were to choose your favourite meal what would it be, where and why?
A Chinese buffet in a noodle bar in Belfast.
What has been your proudest moment?
Getting on the aeroplane three years ago to go to South Africa.
What was the most frightening moment of your life?
Again leaving for South Africa - leaving my family behind and going to South Africa not knowing what to expect.
How would you describe your taste in clothes? What's the most you ever spent on a single item?
Casual. I wear a lot of surfing gear in South Africa.
What would you do if you won a million pounds?
If I was sensible I would invest the money and live off the interest. I guess I would buy a nice car and go a trip around the world.
What was your most embarrassing moment?
There are so many but most recently it was when a mosquito bit me four times on my face and had to go to work with a swollen eye and nose. I looked like the elephant man.
What music do you like?
A big mix - rock, folk and alternative Christian music.
What sports person do you most admire?
I'm not a big sports fan but when I was younger I liked Ryan Giggs.
Describe your best ever holiday. What would your dream holiday be?
Last year my friends joined me in Capetown and we spent two weeks on a road trip around the South African coast.
What is your greatest remaining ambition?
I would love to write a book.
If you could spend a day with a celebrity whom would you choose?
Matthew Fox who plays Jack in the show Lost.
If you were stranded on a desert island what three things would you want with you?
I-pod, Bible and company.
FAVOURITE THINGS.....
| | |
| --- | --- |
| Car | Landrover |
| Film | It's a wonderful life |
| Comedian | Peter Kay |
| CD | Shawn McDonald's Lies in Seattle . |
| Book | Bible |
| Actor | George Clooney |
| Actress | Julianne Moore |
| Drink | A type of tea I drink in South Africa called Rooibos tea |
Ulster Star
29/12/2006