JENNY MONROE
asks the questions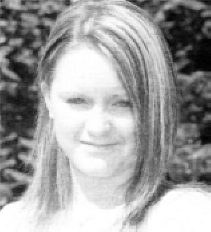 Paula Smyth, 15, is a member of Killultagh pony club and recently won the 'Streets Ahead' super league award for her riding skills. She lives in Lisburn with her family and is a pupil at Laurelhill Community College.
Q&A
What do you like doing on your day off?
I really enjoy just sitting about the house relaxing and watching TV. I also like to go shopping with my mum and sister.
Q&A
If you were to choose your favourite meal what would it be, where and why?
Chicken Curry and Fried Rice from the Man Lee Chinese takeaway in Ballymacash. The food is gorgeous.
Q&A
What has been your proudest moment?
Winning the pony club award.
Q&A
What was the most frightening moment of your life?
When my older brother fell off a roof he was working on.
Q&A
How would you describe your taste in clothes?
Colourful and trendy. I love wearing skirts and pretty tops.
Q&A
What would you do if you won a million pounds?
Buy clothes, a Ferrari and also buy presents for my family.
Q&A
What was your most embarrassing moment?
Once when I was show jumping my bra broke and I was wearing a light top so I had to stop my horse and run out of the arena with everyone watching.
Q&A
What music do you like?
Dance and hip hop music.
Q&A
What sports person do you most admire?
Tim Stockdale - an international show jumper.
Q&A
Describe your best ever holiday. What would your dream holiday be?
I enjoyed Lanzarote a few years ago with my family. It was great because there was lots to do including riding camels. I would like to go to Ibiza when I turn 18 as I think the clubs would be brilliant.
Q&A
What is your greatest ambition?
To become an international show jumper.
Q&A
If you could spend a day with a celebrity whom would you choose?
The rap star Usher.
FAVOURITE THINGS.....
| | |
| --- | --- |
| Car | Ferrari 360 Spider |
| Film | Saw 2 |
| Comedian | Matt Lucas |
| CD | Marco V |
| Book | The BFG |
| Actor | Bruce Willis |
| Actress | Cameron Diaz |
| Drink | Water |
Ulster Star
28/07/2006