Q&A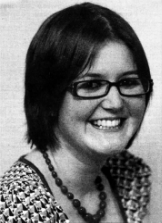 STACEY Ewart, 16, is a student at Hunterhouse College. The budding young journalist recently spent a week working in the Star's editorial department.
What do you like doing on your day off?
I pretty much always end up doing the same things - shopping, drinking unhealthy amounts of mocha and watching movies. Sometimes in the summer I get dragged along to the zoo.
If you were to choose your favourite meal what would it be, where and why?
Oh definitely Dominos Pizza - barbecue chicken. I like eating it at home because that way I can wear pyjamas and don't have to worry about trying to look civilized while I'm eating.
What has been your proudest moment?
In 2006 when myself and two friends hosted a 'battle of the bands' we had been organising and panicking about for months.
What was the most frightening moment of your life?
I was frightened when my Dad took my brother and I onto a ghost-train in Carrickfergus. I never quite got over it.
How would you describe your taste in clothes?
My taste in clothes is really rather hard to define - I think I have grown up a lot recently, much to the relief of my mum.
What would you do if you won a million pounds?
I would probably retire from the world of work at the age of 16. I probably wouldn't spend any of it because if I did I wouldn't be a millionaire anymore.
What was your most embarrassing moment?
This is difficult to decide because embarrassing moments occur so frequently. A few years ago I fell off a rope swing because I forgot to hold on. My brother and cousin found it hilarious.
What music do you like?
I like a lot of music. I listen to anything, however I do prefer rock music. My favourite bands are Metallica, Seether and Breaking Benjamin.
Describe your best ever holiday. What would your dream holiday be?
Without a doubt Australia three years ago. I'm going again next month.
What is your greatest remaining ambition?
To appear in a Broadway musical. This is very ambitious because I can't dance act or sing. I just love watching them.
If you could spend a day with a celebrity whom would you choose?
Yvonne Craig - anyone who knows me knows that I am obsessed with Batgirl and Yvonne Craig was the original Batgir.
A you were stranded on a desert island what three things would you want with you?
MP3 player, my laptop and my boyfriend.
FAVOURITE THINGS.....
| | |
| --- | --- |
| Car | Anything that gets me from A to B. |
| Film | Moulin Rouge |
| Comedian | Bill Bailey |
| CD | Crimson by Alkaline Trio |
| Book | The Mists of Avalon by Marian Zimmer Bradley |
| Actor | Seth Green |
| Actress | Helena Bonham Carter |
| Drink | Coca Cola |
Ulster Star
17/11/2006