JENNY MONROE
asks the questions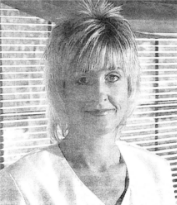 SUSAN Reilly is the proprietor of Indulgence by Susan - a home based salon, which has been running for almost a year in Lisburn. She is married to Kieran and has three children aged six, four and two.
Q&A
What do you like doing on your day off?
Going to the gym and catching-up on the household things I don't get to do when I'm working.
Q&A
If you were to choose your favourite meal what would it be, where and why?
I enjoy eating my homemade shepherds pie with my family.
Q&A
What has been your proudest moment?
The birth of my three children, David, Kelly and Katy.
Q&A
What was the most frightening moment of your life?
When my youngest daughter Kelly choked recently on a piece of sausage and went blue.
Q&A
How would you describe your taste in clothes?
I love bright clothes. I don't necessarily keep up with the latest clothes but I think I am reasonably trendy.
Q&A
What would you do if you won a million pounds?
Oh I would build my own house in the country, reduce my working hours and clear my mortgage.
Q&A
What was your most embarrassing moment?
You've put me on the spot and I really can't think of any.
Q&A
What music do you like?
I like dance music at the weekends.
Q&A
What beauty product could you not live without?
My foundation and bronzer.
Q&A
Describe your best ever holiday. What would your dream holiday be?
My honeymoon in Barbados was amazing. It was tranquil and just perfect. I would like to take my children when they are older to Disneyland.
Q&A
What is your greatest remaining ambition?
To expand my beauty salon.
Q&A
If you were on a desert island what three things would you like to take with you?
Hair straighteners, make-up and shoes.
Q&A
If you could spend a day with a celebrity whom would you choose?
Shane Ward.
FAVOURITE THINGS.....
| | |
| --- | --- |
| Car | The new Chrysler people carrier. |
| Film | Mrs Doubtfire |
| Comedian | Jasper Carrott |
| CD | James Blunt's Beauty essential Lipstick |
| Actor | Keanu Reeves |
| Actress | Goldie Hawn |
| Drink | Sparkling white wine |
Ulster Star
21/07/2006