Q&A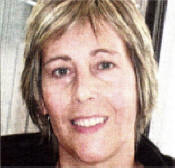 JACQUELINE Haggan, 44, runs the Bentra School of Irish Dancing based in Lisburn and the Carrickfergus area. She has danced from she was three years of age and retired at 29. Jacqueline held the title of Ulster champion several times throughout her dancing career. She is married to David and they have two grown up children Laura, 24 and Dean, 22.
What do you like doing on your day off?
Unfortunately I'm a bit of a shopaholic. I do like spending time with my friends and family.
If you were to choose your favourite meal what would it be, where and why?
I'm a bit of a traditionalist and love turkey and ham - especially in a little hotel in Larne called the Curran Court.
What has been your proudest moment?
I'm very proud of all my dancers but especially when one of my young dancers Ruth Maguire won the Ulster championships solo section 11-12 years, in March and my senior dancers took a 1st and 2nd in the Couples and 3-hand section.
What was the most frightening moment of your life?
Being told that I had developed a heart condition called cardiomyopathy two years ago.
How would you describe your taste in clothes?
I believe I am quite up to date with fashion but my daughter might disagree.
What would you do if you won a million pounds?
I would take my family and friends on a good holiday and then treat all my pupils to a big party.
What was your most embarrassing moment?
I fell through a stage when I was dancing at an outdoor display for a Church fundraising event and just got up and continued to dance on the ground.
What music do you like?
I enjoy most kinds of music but with my job as a dancing teacher I mainly seem to listen to traditional music.
Describe your best ever holiday. what would your dream holiday be?
My best holiday was a Mediterranean cruise with my husband. My dream one will be in October as I'm going to Barbados to celebrate my 25th wedding anniversary.
What is your greatest remaining ambition?
To live a healthy life and enjoy watching all my pupils get as much fun and enjoyment out of irish dancing as I have done over my lifetime.
If you were stranded on a desert island what three things would you want with you?
Moisturiser, music and toothbrush. Favourite things
FAVOURITE THINGS.....
| | |
| --- | --- |
| Car | Audi TT |
| Film | Dirty Dancing |
| Comedian | Peter Kay |
| CD | Warwick Avenue by Duffy |
| Book | Autobiographies |
| Actor | George Clooney |
| Actress | Jennifer Aniston |
| Drink | Sparkling water and lime juice |
Ulster Star
29/08/2008