Q&A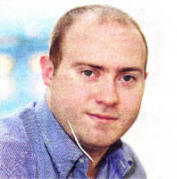 MARK Kelly, 23, from Dromore, is sports enthusiast and enjoys football and cricket. He works as a shift Manager at McDonalds in Sprucefield.
What do you like doing on your day off?
I enjoy spending time socializing with my friends and taking it easy.
If you were to choose your favourite meal what would it be, where and why?
Platters of BBQ spare ribs from a Mexican restaurant in Ayia Napa. My friends and I enjoyed this on our first night in Cyprus and it was a great holiday.
What has been your proudest moment?
So far I would say buying my new car - a Seat Ibiza Sport.
What was the most frightening moment of your life?
A car crash in my old car - though thankfully no one was injured.
How would you describe your taste in clothes?
I would say my taste is somewhat original - If I see it and I like it, I buy it.
What would you do if you won a million pounds?
I would give an amount to my parents, spend some on myself and invest the rest.
What was your most embarrassing moment?
Thankfully I am not really the embarrassing type.
What music do you like?
Foo fighters, Jay-Z, - a whole range of artists
What sports person do you most admire?
Currently it would be Cristiano Ronaldo and previously I would say George Best
Describe your best ever holiday. What would your dream holiday be?
The best holiday was when my friends and I went to Ayia Napa for two weeks, we had a great time. My perfect holiday would be something similar, all my friends somewhere hot having great nights out.
What is your greatest remaining ambition?
To see the world, then maybe try settling down.
If you could spend a day with a celebrity who would you choose?
It would have to be Lewis Hamilton - to see what his life is like and to experience the Fl lifestyle.
If you were stranded on a desert island what three things would you want with you?
CD's, CD player and lots of batteries.
FAVOURITE THINGS.....
| | |
| --- | --- |
| Car | Pagani Zonda |
| Film | The Godfather |
| Comedian | Billy Connolly |
| CD | Usher - Here I stand |
| Book | The Da Vinci Code |
| Actor | Johnny Depp |
| Actress | Uma Thurman |
| Drink | Jack Daniels |
Ulster Star
19/09/2008