Q&A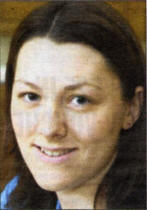 CARLEY Chapman 24, from Moira works as a litigation solicitor. She is in training for the New York marathon and will running on Sunday November 2 in aid of the Alzheimer's Society.
What do you like doing on your day off?
Going for a spot of lunch and some retail therapy.
If you were to choose your favorite meal what would it be, where and why?
Blackened Cod at the Apartment, because it's a fab place with great food, cocktails and atmosphere.
What has been your proudest moment?
Completing my law degree at Oxford University.
What was the most frightening moment of your life?
Abseiling down the BT Tower for charity.
How would you describe your taste in clothes?
I would like to say fashionable, high street, with designer accessories as far as I can afford.
What would you do if you won a million pounds?
Clear my student debt, give some money to family and friends, buy a house and go travelling.
What was your most embarrassing moment?
Cycling down a tow path with my uncle whilst on holiday in England, and cycling straight into the canal trying to navigate my way under a bridge.
What music do you like?
Pop music, R&B, love Take That, Rhianna, Chris Brown, Snow Patrol etc.
What sports person do you most admire?
The rower James Cracknell.
Describe your best ever holiday. What would your dream holiday be?
Best holiday was Santorini, Greece -blue skies, crystal clear waters, long sunny days. Would love to visit Australia and New Zealand some day.
What is your greatest remaining ambition?
To complete the NYC Marathon on November 2, and to buy a pair of Christian Louboutin shoes for doing so.
If you could spend a day with a celebrity whom would you choose?
Victoria Beckham.
If you were stranded on a desert island what three things would you want with you?
ipod, moisturizer, Marie Claire magazine
FAVOURITE THINGS.....
| | |
| --- | --- |
| Car | BMW X5 |
| Film | Wimbledon |
| Comedian | Patrick Kielty |
| CD | Take That, Beautiful World |
| Book | P.S. I love you, Cecilia Ahern |
| Actor | Hugh Grant |
| Actress | Meryl Streep |
| Drink | Strawberry Daiquiri |
Ulster Star
27/10/2008