Q&A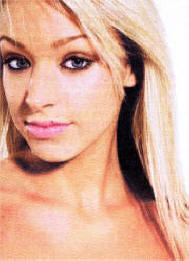 CHARLOTTE Kearney, 21, from Ballyskeagh, has reached the final of the Miss Student UK grand final to be held in Nottingham next month. She studies fashion buying at Manchester Metropolitan University.
What do you like doing on your day oft?
Going to the gym, meeting up with friends and going to the cinema.
If you were to choose your favourite meal what would it be, where and why?
My mum's homemade fish pie in front of a roaring turf fire as I really miss my home comforts.
What has been your proudest moment?
Winning the title of the Face of Henleys 2008.
What was the most frightening moment of your life?
Having a nasty accident while horse riding across the desert with my boyfriend this year in Egypt. I won't be heading back there in a hurry.
How would you describe your taste in clothes?
I enjoy mixing high street trends with vintage bargains.

What would you do if you won a million pounds?
I would give a large donation to animal charities, pay off my student loan and treat my friends and family to a luxury holiday.
What was your most embarrassing moment?
I have a part time job as a door hostess at a VIP bar in Manchester and one night I asked football star Ronaldo for ID. I didn't realise who it was until the doormen told me after - I was so embarrassed.
What music do you like?
I love a wide range from Girls Aloud to Michael Buble.
What sports person do you most admire?
Ronaldo. He was such a gentleman after our little mishap.
Describe your best ever holiday. What would your dream holiday be?
I loved last summer when I spent one month at my boyfriend's villa in Magaluf. I saw so many people I knew from home it was great. It was like being back in Lisburn minus the cold weather.
What is your greatest remaining ambition?
To bring the Miss Student UK title back to my home city of Lisburn.
If you could spend a day with a celebrity whom would you choose?
Jamie Oliver, as he could give me some tips on cooking. I'm still not that great.
If you were stranded on a desert island what three things would you want with you?
A helicopter. a good looking pilot and a luxury food and drink hamper.
FAVOURITE THINGS.....
| | |
| --- | --- |
| Car | My grandpa's vintage Morgan. |
| Film | Shirley Valentine |
| Comedian | Peter Kay |
| CD | Jagged Little Pill. Alanis Morissette |
| Book | Stephen Covey. 'The 7 habits of highly effective people' |
| Actor | Will Farrell |
| Actress | Keira Knightley |
| Drink | Cosmopolitan |
Ulster Star
23/05/2008