Q&A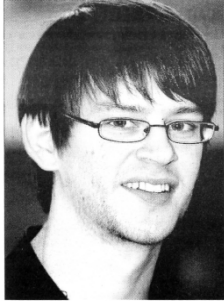 CHRIS Jones, 24, is a trainee Journalist with the Star. He is from Ballyclare but lives in Belfast. He freelances for AU Magazine on a regular basis.
What do you like doing on your day off?
Lying in until lunchtime. maybe going for a walk somewhere nice with my girlfriend, then going out for a meal and then to a gig and club after. Doesn't often work out like that though.
If you were to choose your favourite meal what would it be, where and why?
Well I d love to go to Canada. I did French at university and I like curry, so I'll say a curry house in Montreal. Loads of good music going on there as well for afterwards.
What has been your proudest moment?
Probably getting my degree.
What was the most frightening moment of your life?
When I was about six I was in the car with my mum and brother, and a lorry in front of us overshot a junction and started reversing. It only stopped when the driver heard our headlights smash. That was pretty scary.
How would you describe your taste in clothes?
Pretty indie I suppose. but I don't try too hard -this is immediately obvious when you see me.
What would you do if you won a million pounds?
I wouldn't keep all of it. but I would go off travelling and see the places I've always wanted to -America. Canada. Japan, the Caribbean etc. And I'd buy a house in south Belfast or Dublin. Or both.
What was your most embarrassing moment?
There's been a few. Making a hash of singing solo at a music festival when I was about 10.
What music do you like?
Pretty left field stuff mostly - indie rock, electro and post-punk.
What sports person do you most admire?
David Healy. Legend.
Describe your best ever holiday. What would your dream holiday be?
Best ever was either interrailing for five weeks with mates after university. or a week in the south of France last summer with my girlfriend Laura. Dream holiday - round the world trip for a year or something.
What is your greatest remaining ambition?
Making a living out of journalism, preferably writing about music.
If you could spend a day with a celebrity whom would you choose?
Gordon Strachan cracks me up and he'd have some amazing stories, so him.
If you were stranded on a desert island what three things would you want with you?
An endless supply of music, some suncream and a working phone
FAVOURITE THINGS.....
| | |
| --- | --- |
| Car - | A high spec Merc. Audi or BMW |
| Film - | American Beauty maybe |
| Comedian - | Bill Hicks |
| CD - | Doolittle by the Pixies |
| Book - | A Short History of Nearly Everything by Bill Bryson |
| Actor - | Kevin Spacey |
| Actress - | Kirsten Dunst |
| Drink - | A pint of Hare |
Ulster Star
22/02/2008