Q&A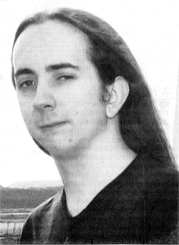 CHRIS Logan, 25, from Dunmurry is the founding member, guitarist and songwriter in the band EXIT. He recently graduated from Queens University with a Degree in Music Technology and now works professionally as a Musician, composer and sound engineer.
What do you like doing on your day off?
When not with the band I am usually either writing songs, recording other bands/musicians in my studio or composing film soundtracks, or just chilling out watching films or listening to music.
If you were to choose your favourite meal what would it be, where and why?
Christmas dinner at home. As my Mum is a trained chef why would I want to go anywhere else?
What has been your proudest moment?
Winning UK musician Of The Year and playing The Cavern Club in Liverpool with my band EXIT.
What was the most frightening moment of your life?
My equipment breaking down at the end of a soundcheck, just before EXIT's big support slot with Starsailor. Definitely my heart-stopping moment of all time.
How would you describe your taste in clothes?
Casual. Jeans and T-shirt.
What would you do if you won a million pounds?
Invest in the best recording studio in the country. Something to rival the studios found in London.
What was your most embarrassing moment?
I don't take myself that seriously to get embarrassed easily.
What music do you like?
I have a very eclectic taste in music, everything from Classical, Rock, Blues. Jazz and everything in-between. I am an obsessive Queen fan.
What sports person do you most admire?
Ryan Giggs.
Describe your best ever holiday. What would your dream holiday be?
My best holiday would probably be the time when EXIT went to play the Cavern Club in Liverpool. We spent a few days in the city taking in the sites and living it up. But for a mad Beatles fan it was amazing to stand where the Beatles had once stood. My dream' holiday would be to see New York.
What is your greatest remaining ambition?
To sign a worldwide record deal with EXIT and write a song that crosses all boundaries of language and race like Queen's 'We are the Champions'.
If you could spend a day with a celebrity whom would you choose?
Brian May, the legendary Queen guitarist.
If you were stranded on a desert island what three things would you want with you?
Guitar. paper and pen to write songs.
FAVOURITE THINGS.....
Car:
Jaguar XK Conve

rt

ible
Film:
Ghostbusters
Comedian:
Billy Connolly
CD:
Queen - Innuendo
Book:
Stephen King's IT
Actor:
Tom Hanks
Actress:
Nicole Kidman
Drink:
Beer
Ulster Star
04/01/2008