Q&A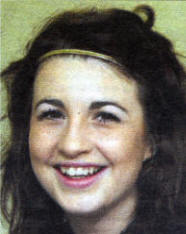 CLAIRE McCullough,16, from Carryduff spent a week at the Star on work experience. She is a sixth form pupil at Hunterhouse College studying Performing Arts, English literature and Politics.
What do you like doing on your day off?
If I have money I like to go shopping, hang out with friends or go to a gig.
If you were to choose your favorite meal what would it be, where and why?
I love my mum's gammon and cider gravy on a Sunday, I could eat it anywhere.
What has been your proudest moment?
Surviving my GCSEs was an experience. I'm proud that I didn't get too stressed out and did well.
What was the most frightening moment of your life?
Every moment is frightening for me after Eve just watched a scary movie, especially The Grudge. it was horrible.
How would you describe your taste in clothes?
Quirky. I like to experiment with different styles, depending on my mood.
What would you do if you won a million pounds ?
I would blow it all on really stupid things. I've always said I'd buy my mum a nice house if I won the lottery. Apart from that clothes, presents, holidays, the works. The money wouldn't last long at all.
What was your most embarrassing moment?
My life is an embarassing moment. it's full of them.
What music do you like?
I love all sorts of music, everything and anything. I draw the line at country music though.
Describe your best ever holiday. What would your dream holiday be?
I went to Italy skiing with my school a few years ago and it was amazing. We stayed for a week and watching everyone attempt to ski without falling over, including myself, was hilarious. We even met Jimmy Carr in the airport on our way which was a bonus. I'd love to go to Australia, America and Toyko.
What is your greatest remaining ambition?
I would love to do something in either media or drama and be a household name.
If you could spend a day with a celebrity whom would you choose?
I have so many but I think either Kelly Brook because she's really talented and beautiful or Johnny Depp in an attempt to convince him to marry me.
If you were stranded on a desert island what three things would you want with you?
A friend or family member to keep me company, a weapon to help me kill for food and probably suntan lotion to avoid getting burnt.
FAVOURITE THINGS.....
| | |
| --- | --- |
| Car | A black, navy or yellow beetle |
| Film A | nything with Johnny Depp |
| Comedian | Russell Brand and Jimmy Carr |
| Book | My Booky Wook by Russell Brand |
| Actor | Johnny Depp |
| Actress | Too many to choose |
| Drink | Burn energy drink |
Ulster Star
05/12/2008