Q&A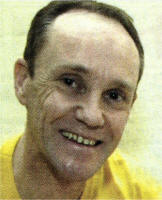 DAVID Bowes, 47, from Lisburn is preparing for the challenge of his life in a bid to raise money for children with cancer. In May next year he will delve into the depths of the Grand Canyon to complete a nine day trek and raise money for the Northern Ireland Cancer Fund for Children.
What do you like doing on your day off?
Watch live sport,' family outings, walking with my dog. I just like to have time out.
If you were to choose your favourite meal what would it be, where and why?
Steak with anything in any decent restaurant. I don't eat much red meat so a good quality steak is a real treat.
What has been your proudest moment?
I don't gauge these things hut seeing my daughter Hayley play violin at the Albert Hall was an especially proud moment.
What was the most frightening moment of your life?
Being caught up in a crowd crush as a young boy.
How would you describe your taste in clothes?
I like jeans and T shirts for casual work but also like to dress smart for a special occasion.
What would you do if you won a million pounds?
Spend more time with and money on my family particularly my kids and my mum and buy a racehorse.
What was your most embarrassing moment?
Falling in the dads' race at school sports day.
What music do you like?
At the moment lots of classical pieces. I really can appreciate a wide variety of music as long as there is either a good tune or good lyrics or both.
What sports person do you most admire?
Steve Redgrave.
Describe your best ever holiday. What would your dream holiday be?
Best ever holiday was in Florida with the family. To have that holiday in Florida exactly as it was before would be perfect.
What is your greatest remaining ambition?
To always remain upbeat, positive and to always have ambition.
If you could spend a day with a celebrity whom would you choose?
Gordon Ramsey. Perhaps he could improve my cooking.
If you were stranded on a desert island what three things would you want with you?
My children, my dog and my ipod.
FAVOURITE THINGS.....
| | |
| --- | --- |
| Car - | Any Ferrari |
| Film - | The Blues Brothers |
| Comedian - | Peter Kay |
| CD - | Light House family |
| Book - | Frankenstein (Mary Shelly) |
| Actor - | Dan Ackroid |
| Actress - | Whoopee Goldberg |
| Drink - | Baileys |
Ulster Star
12/12/2008