Q&A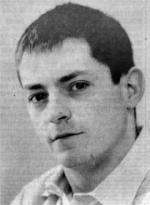 DECLAN Loughlin, 23, from Finaghy, is a trainee journalist. When not contemplating theories of culture or tribal rituals in Zambia, he likes to relax by listening to his favourite albums or watching documentaries.
What do you like doing on your day off?
On my day off I always try and re-organise myself for the future by completing tasks which I didn't get to do the day before.
If you were to choose your favourite meal what would it be, where and why?
Definitely a spicy sausage, burgers and jalapeno pepper barbecue - inside a dormant volcano, just north of Valle de Santiago town in central Mexico.
What has been your proudest moment?
My proudest moment in life was probably when I was leaving Katete Village in Zambia. The locals expressed how much mine and my team's visit to them had meant.
What was the most frightening moment of your life?
When I had a nightmare in Mexico. I awoke from a terrible experience which involved ghosts to find myself paralysed, unable to move, almost unable to breathe with my heart rate at such a low level that it felt as if I was going to die.
What would you do if you won a million pounds?
Plan a return trip immediately to both Zambia and Mexico. In Zambia I would build a new school. In Mexico I would throw a huge party for my friends, while I would also invest a lot of the money into their local area and perhaps build a new sports ground.
What was your most embarrassing moment?
When I was on a first date with a girl who bought me several shots. After a short time I threw up, not on the girl fortunately, but on the way to the toilet. However, I was in a rush to get to the toilet and entered the female's by accident. I was thrown out by the bouncers for this oversight, and left the premises with the girl (after explaining the situation) and a big red face.
What music do you like?
I do have an ear for Hip Hop music.
Describe your best ever holiday. What would your dream holiday be?
South of France, mid summer, Pyrenees Mountains view from the balcony at the far end of the villa, with the Mediterranean Sea view at the front of the villa. Mid-evening, humid. wonderful cuisine, a bottle (or two) of Rose wine, and, of course. the lucky lady herself.
What is your greatest remaining ambition?
To return to Zambia to fulfil two promises that I made to two very close friends who I fear, due to low life expectancies in the country, may have passed on before I get to fulfil these promises.
If you were stranded on a desert island what three things would you want with you?
Bible, bush-knife and fishing wire.
FAVOURITE THINGS.....
| | |
| --- | --- |
| Car | Sports Utility Vehicle (SUV) |
| Film | Apocalypto |
| Comedian | Dave Chappelle |
| CD | Liquid Swords by the Gza |
| Book | The 48 Laws of Power |
| Actor | Dave Chappelle |
| Actress | Audrey Tautou |
| Drink | Water |
Ulster Star
28/03/2008