Q&A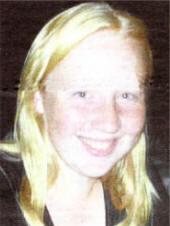 EMMA Donaldson, 15, from Lisburn is a pupil going into her final year at Rockport School near Holywood. She loves writing and wants to go into journalism.
What do you like doing on your day off?
When I'm not at school or work I love to head out with my friends or just steal some time to relax and read a good book.
Favourite meal?
It has got to be black rice, a Spanish recipe that consists of shellfish and rice cooked in squid ink. I know that sounds a bit weird but you have to trust me, it's delicious and worth a try. The only time I ever like to indulge in black rice is when I'm in Majorca with my family.
What has been your proudest moment?
My school has recently started offering pupils the opportunity of doing the silver Duke of Edinburgh Award and my class were to be the first participants.
What was the most frightening moment of your life?
On the second day of our expedition we got lost in a forest where we couldn't find a way out.
Describe your taste in clothes?
I'm definitely a tom boy and I always have been. I love wearing baggy jeans and T shirts though I also love the opportunity to dress up. 1"
What would you do if you won a million pounds?
Give a third to Cancer Research, another third to the Marie Curie Centre and then save the rest to treat myself to a really nice car as soon as I pass my driving test.
Most embarrassing moment?
When I was in first year I had the biggest crush on one of the fifth form boys. A girl pretended I had told her to ask him out for me. He of course said 'no' and then the fifth from girls decided to print it in the school magazine!
Describe your best ever holiday?
Every year my dad and I go to Majorca and meet up with my aunt and uncle who spend the whole summer out there. This year my best friend Emma Beacom came with us and it was just wonderful.
What is your greatest ambition?
When I grow up it's my dream to eventually own my own rock music magazine so I can combine my love of music with my love of writing.
If you could spend a day with a celebrity whom would you choose?
My favourite author Stephanie Meyer.
If you were stranded on a desert island what three things would you want with you?
My best friend Emma, some sun cream (I burn seriously easily) and my ipod.
FAVOURITE THINGS.....
| | |
| --- | --- |
| Film - | The Lion King |
| Comedian - | Alan Carr and Justin Lee Collins. |
| CD - | Elliot Minor |
| Book - | Eclipse by Stephanie Meyer |
| Actor - | James Lafferty |
| Actress - | Sophia Bush |
Ulster Star
03/10/2008