Q&A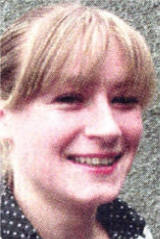 KATHRYN Catney, 26, from Dunmurry is in her final year of studying for a PhD in Genetics and aspires to be a science journalist. She also coaches at Salto Gymnastics Club and has recently accepted the role of NI Gymnastics Competition Organiser.
What do you like doing on your day off?
As little as possible.
If you were to choose your favourite meal what would it be, where and why?
My favourite meal would have to be in a French restaurant on the Ormeau Road called L'etoille that serves the best steaks around.
What has been your proudest moment?
I'm supposed to say getting my degree, but honestly my proudest moment was seeing my little sister perform on the Opera House stage for the first time when she was only 11.
What was the most frightening moment of your life?
It's got to be opening exam results. That moment, when you get the results envelope and begin to tear it open, is terrifying and never gets any easier.
How would you describe your taste in clothes?
I don't have a particular style, I just buy what catches my eye.
What would you do if you won a million pounds?
Pack my bags and travel the world.
What was your most embarrassing moment?
I was on the trampoline team and I checked my leotard before I got up on the trampoline at a competition. It wasn't until I finished my routine that I realised to my complete humiliation that instead of pulling my leotard over my bottom, I'd pulled my bright green pants down instead. Oh the shame.
What music do you like?
I listen to everything and anything
What sports person do you most admire?
Tom Daley, the 14 year old diver. He competed really well at the Olympics, especially seeing as all the other competitors were so much older than him.
Describe your best ever holiday. What would your dream holiday be?
My best holiday so far would definitely have to be the month I spent backpacking around Peru and Bolivia with the girls. My dream holiday would be to backpack around the world.
What is your greatest remaining ambition?
At present I aim to be a science journalist, so I'm concentrating on that ambition. I have many more remaining, but you have to take things one step at a time.
If you could spend a day with a celebrity whom would you choose?
Franky Boyle. He would have me cracking-up all day.
If you were stranded on a desert island what three things would you want with you?
A good book, sunscreen and last but not least my boyfriend.
FAVOURITE THINGS.....
| | |
| --- | --- |
| Car | MX5 |
| Film | Amelie |
| Comedian | Franky Boyle |
| Book | I am legend by Richard Matheson |
| Actor | Johny Depp |
Ulster Star
12/09/2008