Q&A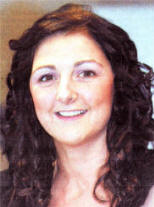 KATRINA Guiney, 25, from Seymour Hill co-owns new hair company 'Chocolate' based on Bachelors Walk. She and her partner Paul have two children, Corey, 3, and Tia, 1.
What do you like doing on your day off?
Spending time with my partner Paul and our two children. We are getting married in June so a lot my free time is spent organising and planning for that.
If you were to choose your favourite meal what would it be, where and why?
I love Fusion Chinese Takeaway in Finaghy. It is gorgeous. The chicken satay and starter platter are amazing.
What has been your proudest moment?
Having my two kids.
What was the most frightening moment of your life?
When I was travelling around Australia I did a skydive off the Gold Coast. I was petrified but the feeling afterwards was brilliant.
How would you describe your taste in clothes?
I like nice and casual clothes. I do like to get dressed up if I am going out in the evening or at weekends.
What would you do if you won a million pounds?
I'd buy a big house in Australia for my family and I'd definitely have horses too.
What was your most embarrassing moment?
Making a mistake during my first year of hair training but it was easily fixed.
What music do you like?
I love upbeat, pop music. I really like Justin Timberlake's music.
What sports person do you most admire?
I'm not a sporty person myself but I like David Beckham's style and the look of Steven Gerrard.
Describe your best ever holiday. What would your dream holiday be?
I went to Mexico three years ago - it was my first holiday being a mummy and I loved it. I would like to go to Kenya on Safari - that would definitely be my dream holiday.
What is your greatest remaining ambition?
To be happy and successful.
If you could spend a day with a celebrity whom would you choose?
I wouldn't mind being Justin Timberlake's girlfriend for the day!
If you were stranded on a desert island what three things would you want with you?
My partner, kids and lipgloss.
FAVOURITE THINGS.....
| | |
| --- | --- |
| Car | Mini |
| Film | Grease |
| Comedian | Peter Kay |
| CD | Any of Justin Timberlake's |
| Book | PS I Love You |
| Actor | Brad Pitt |
| Actress | Jennifer Aniston |
| Drink | Baileys |
Ulster Star
/2008