Q&A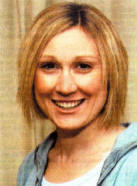 LORNA Briggs, 30, teaches body control pilates classes in Brownlee Primary. She grew up near Moira and attended Friends School. She now lives in Lisburn and also works as a respiratory physiotherapist for the South East Hospital Trust.
What do you like doing on your day off?
Meeting up with friends for coffee, a gossip and maybe some retail therapy. Heading into Belfast on a Saturday night for a boogie and some people watching is something I like doing.
If you were to choose your favourite meal what would it be, where and why?
I'd have to say a medium/rare steak in the Halfway House. I've had several memorable meals there for birthdays and have always really enjoyed the food and been very well looked after.
What has been your proudest moment?
Buying my house.
What was the most frightening moment of your life?
Scuba-diving in the Great Barrier Reef in Australia when a shark was spotted in the vicinity.
How would you describe your taste in clothes?
Prolific. I love clothes and am very keen on clothes shopping. I love my jeans and pretty much either am casual in jeans or dressed up in jeans. I do enjoy occasions when I can get all glammed up though.
What would you do if you won a million pounds?
Probably faint first then when I have recovered go on a fabulous sun drenched holiday with everyone I am close to. Paying off mortgages for example could wait until I was bronzed and glowing.
What was your most embarrassing moment?
Probably getting locked in my bedroom of my house in the first week I lived there and having to be freed by a friend of mine just like Rapunzel - much to my neighbours' amusement.
What music do you like?
Pretty much everything. I saw Snow Patrol and the Killers live last summer and am going to see Kylie and Newton Faulkner over the next few months.
What sports person do you most admire?
Dame Tanni Grey-Thompson.
Describe your best ever holiday. What would your dream holiday be?
Best ever holiday was seven weeks in Australia -an amazing place. My dream holiday is to do the Inca trail to Machu Pichu.
What is your greatest remaining ambition?
I keep finding new ambitions. I've recently completed my pilates teacher training. which was an ambition. Maybe to go on that dream holiday can be the next one.
If you could spend a day with a celebrity whom would you choose?
Billy Connolly, I think it would just be so much fun.
If you were stranded on a desert island what three things would you want with you?
Pride and Prejudice the book, sunglasses and sun tan cream.
FAVOURITE THINGS.....
| | |
| --- | --- |
| Car | Audi TT |
| Film | The Breakfast Club |
| Comedian | Billy Connolly |
| CD | Snow Patrol Chasing Cars |
| Book | Pride and Prejudice |
| Actor | John Corbett |
| Actress | Kate Hudson |
| Drink | Coffee |
Ulster Star
29/02/2008