Q&A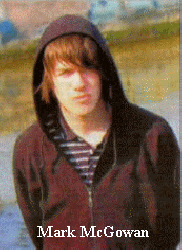 CRUMLIN drummer Mark McGowan, 19, plays in the Pop Punk / Powerpop / Rock band 'Steer Clear' with his brothers Pod, Sib, Vinny and Simon.
What do you like doing on your day off?
On a day off I'd usually just chill out in my house or in a friends house or something, nothing too exciting.
If you were to choose your favourite meal what would it be, where and why?
My mum would probably kill me if I said anything other than her cooking, so anything my mum cooks at home, because she's a great cook. But she actually is a great cook.
What has been your proudest moment?
One would definitely be supporting Good Charlotte in the Ambassador in Dublin, and also when we sold out our own headlining show in Belfast. That was really amazing.
What was the most frightening moment of your life?
I'm scared of pigeons, so any day I'm in a city.
How would you describe your taste in clothes?
Oh I have no idea. my mum would probably say I'm always in black, so I'll go with that. Just t-shirts of bands I like and stuff like that, anything I'm comfortable in

What would you do if you won a million pounds?
I'd put it all in my bath and then get in and laugh to myself at how rich I am.
What was your most embarrassing moment?
Being caught in my bath covered in Monopoly money.
What music do you like?
I love loads of music. My 3 favourite bands are NOFX, Blink 182 and Motion City Soundtrack. But I'll listen to anything pop-punk-rock-y. Anything with a good chorus. And recently I've been listening to a lot of hip-hop. Not the stuff in the charts. but older stuff like NWA and a group called Expensive Taste.
What sports person do you most admire?
Efan Ekoku. Definitely. He wins by a mile.
Describe your best ever holiday. What would your dream holiday be?
I went to New York a few years ago which was so cool. And I've been to Austria loads of times with my family and it's always really amazing. My dream holiday would probably be to play in America with Steer Clear. I think that would be great.
What is your greatest remaining ambition?
It's not really an ambition because they've stopped making them now but I'd love to have been an extra in NYPD Blue. I'm obsessed with that show!
If you could spend a day with a celebrity whom would you choose?
Dennis Franz from NYPD Blue.
If you were stranded on a desert island what three things would you want with you?
A helicopter. a pilot and a case of Mountain Dew.
FAVOURITE THINGS.....
| | |
| --- | --- |
| Car: | I have to say I have no idea, I can't drive and I know nothing about cars! |
| Film: | The Shawshank Redemption. I only watched it for the first time recently but its an incredible movie. And Walk The Line. |
| Comedian: | Dara O'Briain. |
| CD: | Take Off Your Pants And Jacket by Blink 182. |
| Book: | Harry Potter. |
| Actor: | David Caruso. |
| Actress: | Goldie Hawn. |
| Drink: | Mountain Dew |
Ulster Star
08/02/2008