Q&A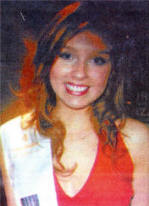 Natalie Abusow, 18 from Lisburn, is through to the final of the Belfast rose contest after entering a heat at McGeown's bar in Glenavy.
What do you like doing on your day off?
I enjoy driving to different places with my friends as I recently passed my driving test. I also go to the gym as I like to keep fit and take care of myself.
If you were to choose your favourite meal what would it be, where and why?
I love to eat pizza and regularly go to Pizzarelli's restaurant in Lisburn as it has a lovely warm atmosphere and the food is gorgeous.
What has been your proudest moment?
Getting through to the Belfast Rose of Tralee heat has been a great achievement and has really boosted my confidence. It would be brilliant if I get to represent Lisburn as the Belfast Rose.
The most frightening moment of your life?
I went paragliding in Cyprus - it was the frightening as you have no control over your speed or height. It was a complete adrenaline rush although when it was over it gave me a great sense of achievement and I would definitely do it again.
How would you describe your taste in clothes?
I think I have a very individual style in clothing - I like to stand out. I am not the sort of girl who blends in and that's how I like to dress.
What would you do if you won a million pounds?
I would give money to Marie Curie Cancer Fund as a way of giving something back to the community.
What was your most embarrassing moment?
I like to walk my miniature Yorkshire terrier in Wallace Park and when I let her off the lead she goes mad and runs around the football pitches. One time I let her off and she bolted at this couple kissing in the middle of the pitches. They laughed thank goodness. I was really embarrassed.
What music do you like?
I like most music. I really love dance music and some R&B. I secretly love country music.
What sports person do you most admire?
David Beckham - not really for the sport side of things as I don't' support any teams - but he is lovely.
Describe your best ever holiday. What would your dream holiday be?
I went to New York in the summer. I have never felt so welcome anywhere in all my life. I would love to go back and visit all my friends again.
What is your greatest remaining ambition?
To be completely independent and buy my own house.
If you could spend a day with a celebrity whom would you choose?
I would love to meet Johnny Depp.
If you were stranded on a desert island what three things would you want with you?
I would like music to keep me sane, a non-stop supply of chocolate and a boat to get me off the island when I want to go home.
FAVOURITE THINGS.....
| | |
| --- | --- |
| Car: | My little Red Peugeot 206 |
| Film: | Little Nicky with Adam Sandler |
| Comedian: | Lee Evans |
| CD: | Kanye West |
| Book: | Child called It |
| Actor: | Johnny Depp |
| Actress: | Nicole Kidman |
| Drink: | Lucozade |
Ulster Star
21/03/2008