Q&A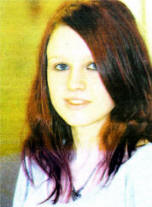 NATALIE BURTON, 16, a sixth form pupil at Friends' School, Lisburn, would like to be a music journalist. She recently moved back to Lisburn with her family after living in Australia.
What do you like doing on your day off?
Going out with friends or relaxing at home, listening to music, drawing and watching films
If you were to choose your favourite meal what would it be, where and why?
Pretty much anything with pasta. as long as it's vegetarian. In Italy someday because that's just the ultimate place.
What has been your proudest moment?
Swimming in the Olympic pool in Sydney.
What was the most frightening moment of your life?
Any time I've ever been on a plane.
How would you describe your taste in clothes?
It tends to mostly involve purple.
What would you do if you won a million pounds?
I would travel the world with friends and build up an amazing vinyl collection.
What was your most embarrassing moment?
I manage to embarrass myself quite a lot so nothing has too much of an impact.
What music do you like?
A lot. Favourites at the moment are Patrick Wolf. The Smiths. Justice. Tilly and the Wall. Modest Mouse and about a million more.
What sports person do you most admire?
I'm not a big sports fan.
Describe your best ever holiday. What would your dream holiday be?
Last year in Australia a friend and I took a trip up to Brisbane and got backstage at a Band New concert, it was an amazing night. London in December was great too. I'd like to get back there and some day see New York.
What is your greatest remaining ambition?
To become a music journalist.
If you could spend a day with a celebrity who would you choose?
I would love to have spent a day at the Factory with Andy Warhol. just to have been there and seen it. For someone alive, Noel Fielding. he would probably be hilarious.
If you were stranded on a desert island what three things would you want with you?
My best friend and lots of music.
FAVOURITE THINGS.....
| | |
| --- | --- |
| Car: | Mini |
| Film: | Fight Club |
| Comedian: | Dylan Moran |
| CD: | Any of Patrick Wolf's |
| Book: | Fear and Loathing in Las Vegas by Hunter S. Thompson |
| Actor: | River Phoenix |
| Actress: | Scarlett Johansson |
| Drink: | Coffee |
Ulster Star
01/02/2008