Q&A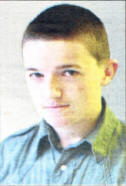 Roy Heasley, 16 is a pupil at St Patricks High School in Lisburn. He is a keen footballer and would like to be an actor.
What do you like doing on your day off?
Relax and have fun
If you were to choose your favourite meal what would it be, where and why?
Spaghetti Bolognese at home because I love my mum's cooking.
What has been your proudest moment?
Receiving the drama award in St Patricks.
What was the most frightening moment of your life?
When I was younger I went to live with a family in America for six weeks on an exchange scheme who I knew nothing about. It was frightening but at the same time exciting.
Flow would you describe your taste in clothes?
Excellent!
What would you do if you won a million pounds?
Give half of it to my mum and create my own Predator Combat Garnet which is a Airsoft/BB gun site where you are split into two teams and play all sorts of war games against each other across a large outdoor area.
What music do you like?
Anything, but preferably pop.
What sports person do you most admire?
Kimi Raikkonen, the Finnish Formula 1 driver.
Describe your best ever holiday What would your dream holiday be?
When I went to America for six weeks it was exhilarating. My dreary holiday is would be to go with my family on a week's luxury cruise it the summer.
What is your greatest remaining ambition?
To become an actor.
If you could spend a day with celebrity whom would you choose?
Dwain 'The Rock' Johnson - wrestler turned actor.
If you were stranded on a desert island what three things would you want with you?
A house, water and food.
FAVOURITE THINGS.....
| | |
| --- | --- |
| Car: | Mazda RX8 |
| Film: | All three Lord of the Rings Comedian: Will Smith |
| CD: | Rhianna |
| Book: | Buddy/Buddy Holly |
| Actor: | Samuel L Jackson |
| Actress: | Keira Knightley |
Ulster Star
07/11/2008