Q&A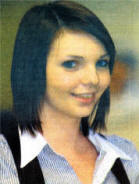 VICKY Warwick, 17, from Lisburn is a member of the South Eastern Music Centre Youth Orchestra and Wallace High group Capella. She studies English, Moving Image Arts and Music at Wallace. Vicky loves anything to do with music and has been playing the violin for 12 years as well as taking singing lessons.
What do you like doing on your day off?
If I'm doing anything with music I am happy. Shopping is also something I love to do or just going out with friends.
If you were to choose your favourite meal what would it be, where and why?
Pasta is the best. It would have to be in some nice restaurant in Italy. It wouldn't be the same anywhere else.
What has been your proudest moment?
It would have to be either GCSE results day or playing with the youth orchestra in the Waterfront Hall last year.
What was the most frightening moment of your life?
Either the A-string of my violin snapping seconds before a concert or when, on a trip to Paris with Capella. I was stranded at a tube station in the middle of the night for hours. That actually turned out to be good fun.
How would you describe your taste in clothes?
Hopefully not too bizarre. It could probably be summed up as normal with a twist.
What would you do if you won a million pounds?
Take all my friends away on a big holiday to Las Vegas.
What was your most embarrassing moment?
I tend to fall quite a lot which sometimes leaves me with a red face.
What music do you like?
I love almost everything. I hardly ever hear something that I can't appreciate. At the minute I really like Maroon 5 and James Morrison.
What sports person do you most admire?
None really. Maybe Andrew Trimble but not for his sporting talent!
Describe your best ever holiday. What would your dream holiday be?
My best ever holiday was St Tropez or maybe Rome but my dream holiday would be to go to New York with my friends on a spending spree.
What is your greatest remaining ambition?
To get a place in an amazing university and become the best at whatever I end up doing for a living. Hopefully I'll be able to fit in a lot of travelling and music.
If you could spend a day with a celebrity whom would you choose?
Sean William Scott from American Pie. He seems like a good laugh.
If you were stranded on a desert island what three things would you want with you?
!pod, friends and a five star hotel.
FAVOURITE THINGS.....
| | |
| --- | --- |
| Car | Audi TT |
| Film | Moulin Rouge |
| Comedian | Colin Murphy |
| Book | The Da Vinci Code |
| Actor | Zach Braff |
| Actress | Sophia Bush |
| Drink | Starbucks' Java chip chocolate frappacino |
Ulster Star
18/01/2008