Adrian Williams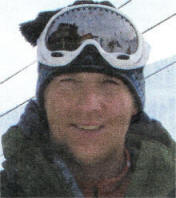 Adrian Williams, 37, originally from Staffordshire works in the outdoor pursuit Industry. In his spare time the Maghaberry man paddles with Lisburn City Paddlers and teaches Taekwondo in Lisburn Leisure Centre and at Maghaberry Community Centre. He also is does voluntary work at St Columba's Church, Killaney Avenue.
What do you like doing on your day off?
I like to catch up on jobs around the house.
If you were to choose your favourite meal what would it be, where and why?
Nicola" my wife" makes an excellent stew" especially after a cold day out. I probably enjoy it best at the family caravan, near Newcastle.
What has been your proudest moment?
I have been very privileged to have a lot of proud moments" too many to pick just one!.
What was the most frightening moment of your life?
Being bullied at school was frightening enough.
How would you describe your taste in clothes?
Modern and practical" the occasion dictates.
What would you do if you won a million pounds?
Probably clear the debts" save a portion and enjoy the rest as normal as possible
What was your most embarrassing moment?
Again" lots to choose from" however" forgetting my paddle on a days kayaking" just after driving two hours.
What music do you like?
Depends on the mood" but will listen to most stuff
What sports person do you most admire?
I admire all sports persons for their passion for their sport
Describe your best ever holiday. What would your dream holiday be?
Lots to choose from, but seeing both my sons Skiing in Andorra for the first time was great.
What is your greatest remaining ambition?
To visit Mount Everest, and maybe have a crack at it.
If you could spend a day with a celebrity who would you choose?
Past - Ernest Shackleton and present — Richard Branson.
If you were stranded on a desert island what three things would you want with you?
A good sharp knife" the contents of my garage and a fully fuelled helicopter.
Favourite things
| | |
| --- | --- |
| Car | Range Rover |
| Film | Eider Sanction |
| Comedian | Billy Connolly |
| CD | Justin Timberlake |
| Book | All to do with mountaineering |
| Actor | Clint Eastwood |
| Actress | Demi Moore |
| Drink | Ribenna Hot or cold |
Ulster Star
12/06/2009