Andrew Michaelides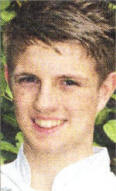 Andrew Michaelides,16, is a pupil at Wallace High School He recently claimed the runner up prize in the Northern Ireland final of the prestigious Future Chef competition.
What do you like doing on your day off?
A typical day off would involve me getting up incredibly early in the morning to head out fishing, then coming home to a warm bath.
If you were to choose your favourite meal what would it be, where and why?
As a child my parents dreaded taking me out for a meal as I had a reputation for choosing the most expensive seafood dishes on the menu. Now I love nothing more than simple pan fried mackerel fillets caught at sea and cooked at home with a warm potato salad.
What has been your proudest moment?
This has to be my recent progress in the Future Chef competition where I realised the passion I have for cooking good food. Also up there with my proudest moments was catching a 21lb pike at Loughgall back in December 2007.
How would you describe your taste in clothes?
Fashionable and quite expensive! I wear a lot of Adidas, gio-goi, American Eagle and Lacoste.
What would you do if you won a million pounds?
I would definitely treat my family all to something nice, put some away in the bank and invest the rest into my dream of owning my own successful restaurant.
What was your most embarrassing moment?
There have been plenty but the most embarrassing has to be waiting in casualty wearing my chest waders, about to faint, with a barbed treble hook hanging out of my finger which got lodged into my finger whilst fishing.
What music do you like?
I'm not very fussy with music. The only music I won't listen to is either squeaky voiced Ws or "rock" music.
What sports person do you most admire?
Despite being a Spurs fan I admire David Beckham for his talent and determination to rise from a keen, young teenager to a globally known celebrity and family man.
Describe best ever holiday. What would your dream holiday be?
I have fond childhood memories of a 3 week family holiday to Australia where I gained memories which will be with me for life such as seeing a kangaroo bouncing across the road in front of our car. More recently though I have to thank Wallace High School for the fantastic skiing trip to New Hampshire, America.
What is your greatest remaining ambition?
My ambition in life is to live it to the full and not waste a minute of it. I want to travel the world on a culinary adventure to broaden my cooking skills. I'd then use my travels to inspire me to open a highly successful restaurant.
If you could spend a day with a celebrity whom would you choose?
I would love to spend a day with a celebrity chef such as Gordon Ramsay.
If you were stranded on a desert island what three things would you want with you?
I would bring a football to pass the time. Fishing tackle to catch my tea and my hair gel because you never who you will meet.
Ulster Star
17/04/2009