CHRISSIE KIDD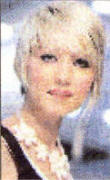 CHRISSIE Kidd, 21, from Lisburn is a beauty therapist and makeup artist and has reached the final of the prestigious Oonagh Boman Make-Up Excellence Awards.
What do you like doing on your day off?
On my day off I enjoy catching up with friends, going for lunch or shopping. You can normally find me in the beauty halls of House of Fraser or Debenhams in Belfast.
If you were to choose your favourite meal what would it be, where and why?
I recently was taken to The Ramore Wine Bar in Portrush, which was delicious and I would definitely recommend it.
What has been your proudest moment?
My proudest moment so far would have to be when I qualified as a beauty therapist in 2006 from Belfast College and then from Oonagh Boman's School of Makeup in 2008 with the highest marks in the class.
What was the most frightening moment of your life?
Most frightening moment would probably be when I was doing my qualifying exams in beauty therapy and my final exam and photo shoot at Oonagh Boman's.
How would you describe your taste in clothes?
I would describe my taste in clothes as trendy and up to date, anything from high street to the odd designer label.
What would you do if you won a million pounds?
If I was to win a million pounds I would like to open my own beauty salon, have a huge spending spree on makeup and take my family to Australia.
What was your most embarrassing moment?
Too embarrassing to share.
What music do you like?
I like most types of music, my favourite would have to be R 'n' B though I listen to a wide range of things.
What sports person do you most admire?
I have never really been the sporty type but would have to say David Beckham.
Describe your best ever holiday. What would your dream holiday be?
My best holiday would have to be Orlando Florida when I was 12 with my family. I would love to go back but my dream holiday would have to be to go to Australia.
What is your greatest remaining ambition?
I would love to own my own beauty salon.
If you could spend a day with a celebrity whom would you choose?
I would love to spend a day with any celebrity makeup artist, that way I would get to do what I enjoy and hopefully meet a few other celebrities at the same time.
If you were stranded on a desert island what three things would you want with you?
My mascara, sun cream and my IPod.
Favourite things
| | |
| --- | --- |
| Car - | Audi TT |
| Film - | The Notebook |
| Comedian - | Jimmy Carr |
| CD - | Lady Gaga |
| Book - | PSI Love You |
| Actor - | Will Smith |
| Actress - | Rachel McAdams |
| Drink - | A strawberry daiquiri |
Ulster Star
13/03/2009