Claire McAlister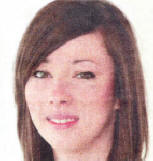 Claire McAlister, 22, from Glenavy has won the Lisburn Arts Advisory Committee Young Artist of the Year Award. She graduated from NCAD in Dublin last year and is a jewellery designer. She has been selected to go to New Designers in London in July so at the minute is working on some designs for that.
What do you like doing on your day off?
I love going out for dinner with my boyfriend. When I get the chance, it's fun spending the day back in Dublin too.
If you were to choose your favourite meal what would it be, where and why?
I love going to Menu in Belfast, the food is gorgeous. I think I'd eat anything on the menu, especially their desserts.
What has been your proudest moment?
When I was chosen to represent Ireland in the global final of the Bombay Sapphire Designer Glass Competition last year. I even cried I was so proud, almost had a big mascara situation on my hands.
What was the most frightening moment of your life?
I don't know I can't think of one.
How would you describe your taste in clothes?
I love shoes.
What would you do if you won a million pounds?
Buy a really flash car, go on a huge shopping spree, and open an international craft gallery in Belfast.
What was your most embarrassing moment?
I've blocked it out so I can't remember.
What music do you like?
I like all kinds of music. I have to have music on all the time when I'm working. I seem to spend a lot of time driving and the Kings of Leon album is my car disco at the minute.
What sports person do you most admire?
I'm not really a big sports fan.
What would your dream holiday be?
The best holiday I've ever been on was to Palma last June. I went the day I finished my degree so I'd never needed a holiday more. I would really like to go to Australia for a few months, on holiday though not to work.
What is your greatest ambition? To be a famous designer.
If you could spend a day with a celebrity whom would you choose? Someone who could wear my jewellery and get me lots of free advertising.
If you were stranded on a desert island what three things would you want with you?
Sun cream because I burn, dark chocolate and my camera.
Favourite things
| | |
| --- | --- |
| Film | Cool Runnings |
| CD | It changes all the time |
| Drink | Strawberry Daiquiris from Mono |
Ulster Star
27/03/2009