Clive Patterson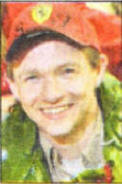 Clive Patterson, 30, a Senior Charles Hurst Ferrari Technician, reached the final stages of Ferrari's globally renowned 'Technician Challenge', and competed to be crowned the 'World's Top Ferrari Technician'. Originally from Sixmilecross, Omagh he now lives in Ballinderry with his family.
What do you like doing on your day off?
Spending time with my family and embarking on a spot of DIY (when I get a chance).
If you were to choose your favourite meal whatwould it be, where and why?
Chicken Madras or Vindaloo from the nearest Indian restaurant. I love spicy food.
What has been your proudest moment?
The birth of my two boys.
What was the most frightening moment of your life?
Seeing my then two and half year old son falling and breaking his femur.
How would you describe your taste in clothes?
Casual and comfortable.
What would you do if you won a million pounds?
Put an extension on my house and buy a big lorry for family transport to/from work. Parking might be an issue but I would worry about that after winning the million. I would also build my own weekend vehicle from scratch, that really would be a challenge. Considering the current economic climate I would certainly not leave it resting in the bank.
What was your most embarrassing moment?
I can't think of any off hand, but I try to avoid embarrassing situations at all times.
What music do you like?
Country is my favourite.
What sports person do you most admire?
All of them, the dedication needed from such people needs to be admired. I have huge admiration for the Dunlops and their achievement in motorcycle racing.
What person/persons do you most admire?
I most admire my mum and dad. I think they taught us well, not just the usual things you teach your kids but they helped form my attitude to life, from their life experiences.
Describe your best ever holiday. What would your dream holiday be?
My best holiday ever was a touring holiday in 2004 through France, Italy, Switzerland, Liechtenstein and Austria in a hire car, covering approx 3000Km. It would be my dream to do the same or similar on a motorcycle.
What is your greatest remaining ambition?
To finish rebuilding my 1989 Volkswagen Golf GTI.
If you could spend a day with a celebrity whom would you choose?
I don't think I would choose a celebrity as such, I would rather spend a day with Robert Bosch or Harry Ferguson. These men had great minds and to have the opportunity to understand there thinking and engineering experiences would be priceless.
If you were stranded on a desert island what three things would you want with you?
Large amount of aviation fuel, an aeroplane and a runway.
Favourite things
| | |
| --- | --- |
| Car: Ferrari | 430 Scuderia |
| Film: | Bourne Trilogy |
| Motorcycle: | Kawasaki ZZR1400 |
| Comedian: | Peter Kay |
| CD: | Johnny Cash/Kenny Rogers |
| Actor: | Kevin Spacey |
| Actress: | Hilary Swank |
| Drink: | Espresso coffee |
Ulster Star
06/02/2009