Emma McMullan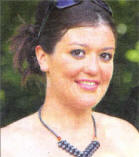 Emma McMullan, 24, from Lisburn, has set up a website called www.sorturlifeout.com which, is a re-launched social networking site and its slogan is 'People Need what you Know, You know what they Need'.
What do you like doing on your day off?
Socialising, pole dancing and partying.
If you were to choose your favourite meal what would it be, where and why?
A picnic at the top of the Mourne Mountains with all my family to share time in beautiful surroundings.
What has been your proudest moment?
I've become a bit of an entrepreneur, having set up my own social net-working website www.sorturlifeout.com which I am currently promoting around the country. Log onto www.sorturlifeout.com and see why.
What was the most frightening moment of your life?
Spending over two years in hospital due to car accidents and illness.
How would you describe your taste in clothes?
Original with a worldwide taste.
What would you do if you won a million pounds?
Throw the world's biggest party.
What was your most embarrassing moment?
I have too many to mention.
What music do you like?
Dance and Hip-Hop.
What sports person do you most admire?
Gerald Cleary my Grandad - he is a retired meteorologist. He always says If you can make a living out of playing a sport you enjoy, that's a good way to go. He was also a dedicated member of Ardglass Golf club for many years where he held the positions of club secretary, Captain and President.
Describe your best ever holiday. What would your dream holiday be?
Me and my Godson flew to Disneyland in May and I really enjoyed that.
What is your greatest remaining ambition?
To make my website a success, and have it at the top of Google for life.
If you could spend a day with a celebrity who would you choose?
Paris Hilton because I could give her a run for her money.
If you were stranded on a desert island what three things would you want with you?
My laptop, chocolate and sun lotion.
Favourite things
| | |
| --- | --- |
| Car | Porsche |
| Film | Its all Gone Pete Tong |
| Comedian | Alan Carr |
| CD | Floorfillers |
| Book | Jordan |
| Actor | Brad Pitt |
| Actress | Angelina Jolie |
| Drink | Malibu and coke |
Ulster Star
07/08/2009