HOLLY NEILL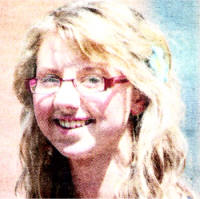 Holly Neill, 17 from Lisburn has just finished lower sixth at Wallace. She is heading off on a mission team to Moldova with Exodus and when she finishes school hopes to take a gap year and work in America with The Pais Project, which offers an apprenticeship in youth and schools ministry.
What do you like doing on your day off?
Not much. If it was one day off I'd probably have a lie in, watch trashy morning TV, eat junk food and then head out somewhere in the evening with friends.
Choose your favourite meal.
I'd probably choose a Daltons sandwich, The Grand Slam. if you have to ask why you clearly haven't tasted it. And I love Ben & Jerry's ice cream - favourite would be either Baked Alaska or Cookie Dough.
Proudest moment?
Finishing my Gold Duke of Edinburgh practice - one of the toughest, yet surprisingly fun things I've ever done. Having to hike up mountains with blisters on my feet, rain dripping down my face, eating soggy sandwiches and mammoth amounts of pasta, having to keep up with a bunch of guys - it was tough, but worth it for the sense of achievement at the end.
What would you do if you won a £1m?
Buy all the stereotypical stuff - car, house, holiday. Suppose I would have to be a good daughter and say I'd help my parents out. I think I'd feel quite bad spending it all on myself so I'd give some to charity as well.
Most embarrassing moment?
Where do I begin? One was at my GB display. We were doing a Hairspray dance and I came running on as the character Seaweed, about to do a dance but my trousers were far too long so I slipped and fell. You just heard this huge gasp from the audience, although I somehow managed to laugh it off - just about.
What music do you like?
Anything really except for rock. I went to see Girls Aloud in Belfast, which was a brilliant night.
Describe your best ever holiday.
Walt Disney World, Florida - absolutely brilliant. It's the only place in the world you'd see fully grown men wearing Mickey mouse ears totally unselfconsciously whilst happily getting their photo taken beside some Disney character. My dream would have to be one of those holidays where it's go, go, go all the time - I can't stick lying on a beach for hours .
What is your greatest ambition?
I'm not sure if you would call it an ambition but I would love to go skydiving.
Which celebrity would you like to meet?
Ty Pennington from Extreme Makeover: Home Edition, just to meet the families and hear their heart-breaking yet inspiring stories, experience demolition day and see the designers work their magic.
If you were stranded on a desert island what three things would you want?
Probably my Bible (I think I need some almighty strength to stop me cracking up), unlimited supply of chocolate and that person you could talk to forever! Eyebrow tweezers would be a close fourth.
Favourite things
| | |
| --- | --- |
| Car: | Mini or Beetle |
| Film: | The Lion King movies |
| TV; | Programme: Friends |
| Book: | Any Karen Kingsbury |
| Actor: | Will Smith |
| Actress: | Jennifer Anniston |
| Drink: | A milkshake from Jenz on the Lisburn Road |
Ulster Star
10/07/2009