JAMES MCKERNAN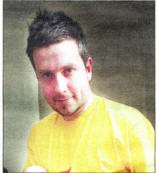 JAMES McKernan, 27, whose wife Lyndsey gave birth to a baby girl Ruby 10 weeks early, is planning to raise money for TinyLife, Northern Ireland's premature and vulnerable baby charity by taking part in the Lisburn Half Marathon. He works for Coca-Cola at Knockmore Hill and plays for local amateur football team, Wesley FC.
What do you like doing on your day off?
Catching up with family and friends, playing the PlayStation and playing football.
If you were to choose your favourite meal what would it be, where and why?
Anything from the Hokkaido Teppanyaki Restaurant in Ayia Napa. The food was delicious but the teppanyaki chefs were pure entertainment while they cooked our food for us.
What has been your proudest moment?
My daughter being born. She was 9.5wks premature so it was the best moment ever when we saw her move and heard her cry.
What was the most frightening moment of your life?
Doing the best man speech at my best mate's wedding.
How would you describe your taste in clothes?
Quite casual - I'm a jeans and t-shirt man.
What would you do if you won a million pounds?
I would quit work and buy a nice house somewhere hot to settle in once I'd travelled round the world with the family.
What was your most embarrassing moment?
I'm quite thick skinned and not much embarrasses me but it's probably the same as my most frightening, that best man speech.
What music do you like?
Rap, Indie and Rock - Eminem, Kanye West, Oasis, Kings of Leon.
What sports person do you most admire?
Alan Shearer.
What would your dream holiday be?
My best ever holiday was my honeymoon at the Moon Palace Resort, Cancun - 5 star paradise, loads of daytime activities, evening entertainment and fabulous food. My dream holiday would be going back to the Moon Palace but for longer, maybe two months this time.
What is your greatest ambition?
I'd like to run the New York marathon some day.
If you were stranded on a desert island what three things would you want with you?
Bear Grylls (to teach me survival techniques), a football and a radio.
Favourite things
| | |
| --- | --- |
| Car | Audi TT |
| Film | The Godfather |
| Comedian | Michael McIntyre |
| CD | Familiar To Millions, Oasis |
| Book | A Damage Done by Warren Fellows |
| Actor | Robert DeNiro |
| Actress | Jodie Foster |
| Drink | Mojito |
Ulster Star
05/06/2009