JAMIE TRIMBLE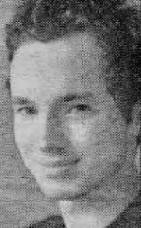 JAMIE Trimble, 26, from Drumbo, is a wedding and portrait photographer. He has been photographing Weddings in Northern Ireland since July 2005. He enjoyed three years working for VENTURE Portraits and has trained both in Manchester and New York and is a graduate from the University of Aberdeen. Wedding Photography is his passion.
What do you like doing on your day off?
Calling in with the neighbours for a chin wag.
If you were to choose your favourite meal what would it be, where and why?
Fish and chips with tartar sauce - all homemade by my legendary grandmother -in her cottage kitchen - with a big glass of iced coke.
What has been your proudest moment?
Completing a marathon in under four hours after minimal training and winning £1000 in a government sponsored portrait photography competition.
What was the most frightening moment of your life?
My brother pretended to breaking into my house with a balaclava on and pointed a 'fake' gun at me for a joke. I was in hysterics - you had to be there - I forgave him eventually.
How would you describe your taste in clothes?
I subscribe to VOGUE for the photography only - my favourite jumper is my old manager's - she let me keep it one cold Aberdeen night in the photography studio - it's about 10 years old and from Gap.
What would you do if you won a million pounds?
I'd set up a foundation in my mothers name and build a new church hall for Drumbo Presbyterian.
What music do you like?
People would know me for being a Mariah Carey fan - the Sony years. Please don't judge me. I've even been pinned to a wall by her bodyguards when I tried to 'pap' her with a disposable camera. I was seventeen.
What sports person do you most admire?
Garth Young from Belfast Rowing Club - he would give up so much of his time to train completely incompetent young people to row -including myself - he needs a medal. I've photographed Roger Federer at Wimbledon - he's more impressive than anyone, regarding success and sportsmanship.
Describe your best ever holiday. What would your dream holiday be?
My best holiday so far was with my friend Chris in Montreal where my brother lived - Canada is my favourite holiday destination. My dream 'working holiday' would be to tour Europe with Kate Moss and Jamie Dornan - I'd photograph them in every Capital City.
What is your greatest remaining ambition?
Photograph the Queen.
If you could spend a day with a celebrity whom would you choose?
Hillary Clinton - I emailed her intern when she was the Senator for New York - I was informed she was in Washington at the time (I was in Manhattan for a wedding seminar).
If you were stranded on a desert island what three things would you want with you?
A Jack Bauer Sat-Phone, litres and litres of Schweppes Malvern mineral water and my dental hygienist.
Ulster Star
02/10/2009