Jon-Paul Bruce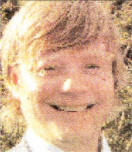 Jon-Paul Bruce, 35, from Lisburn is an e-Business Consultant by trade. Outside of work his passion is musical theatre and drama. He is a member of the Lambeg Players and also Belfast Operatic Company, with whom he is currently appearing in Hello Dolly at the Grand Opera House.
What do you like doing on your day off?
Most of my time off work is spent rehearsing for, or performing in a play, musical or panto. Otherwise I simply chill out with a few dvds, bottle or two of vino and a bit of craic with my mates. The odd all nighter in Belfast is also real good for the soul.
If you were to choose your favourite meal what would it be, where and why?
I have a long standing thing about surf 'n' turf — so Calamari is definitely my starter. Definitely a medium rare T-Bone steak, seared on a smokey griddle. Gorgeous little boiled potatoes and a delicious barbequed corn on the cob, with a knob of Golden Cow on the top. A bit of fresh ground pepper and a sprinkle of paprika. The best place for this meal is Pago Pago Reastaurant in Eilat, Israel.
What has been your proudest moment?
My proudest moment is still whenever my younger sister Alexandra was born. My GCSE English Language presentation was all about her.
What was the most frightening moment of your life?
The day I was taken to hospital with meningitis. The fact that I nearly lost one of my senses still freaks me out a little.
How would you describe your taste in clothes?
I like to dress trendy but also love vintage.
What would you do if you won a million pounds?
Probably give my bank card to someone with a bit of sense! No, I would put a sensible head on for a year or two to make sure the money worked well for me and my family. Then I'd have no problem at all retiring and playing all around the world. Montreal would be the first port of call, followed by New York.
What music do you like?
All types really but especially acid jazz, funk, soft soul and House. Favourite artists are Maroon 5, Stevie Wonder, Amy and increasingly Kings of Leon. I can't stand death metal or punk.
What is your greatest remaining ambition?
To play the part of Joseph on the West End or Broadway. I first played the role when I was 15 and would love to do it again now that my voice has matured and have more of a clue how to act.
If you could spend a day with a celebrity whom would you choose?
Probably Danny Dyer.
If you were stranded on a desert island what three things would you want with you?
let, mobile phone and an endless supply of Ryan's chicken wings.
Favourite things
| | |
| --- | --- |
| Car | A brand new M3 |
| Film | The original Wickerman |
| Comedian | Peter Kay |
| CD | About Jane — Maroon 5 |
| Actor | Jason Statham |
| Drink | Magners or vodka and white |
Ulster Star
08/05/2009