JONNIE GRAHAM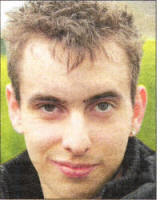 JONNIE Graham, 17, is a DJ from Lisburn who is set to perform at Inferno, the biggest Under 18 music event in Northern Ireland this Saturday August 15. He has had a passion for music from a young age and has played at The Mandela Hall and with Micky Modelle at Coast in Newcastle. Jonnie has also presented shows with BFBS Radio based in Lisburn.
What do you like doing on your day off?
Chilling out and spending time with my girlfriend. I might also produce some tracks on the computer.
If you were to choose your favourite meal what would it be, where and why?
Honey chilli chicken from the Water Margin in Belfast. It is really gorgeous and worth going into Belfast for.
What has been your proudest moment?
Playing in the Mandela Hall in front of a huge crowd. It was a really big achievement.
What was the most frightening moment of your life?
Playing the gig in Mandela Hall. I was shaking in the lead up to it - I was so scared.
How would you describe your taste in clothes?
Stylish but comfortable.
What would you do if you won a million pounds?
Have a big massive party and bring in the world's top dj's.
What was your most embarrassing moment?
Oh dear there's a lot. I'm always embarrassed when my girlfriend catches me singing along to a song.
What music do you like?
Trance, House music, electro and `80's.
Describe your best ever holiday. What would your dream holiday be?
My favourite holiday was probably my first time away when I was younger. We went to Portugal and it was a totally brand new experience. I Would love to go to Ibiza.
What is your greatest remaining ambition?
To be a radio presenter and continue with my Djing like Judge Jules.
If you could spend a day with a celebrity whom would you choose?
Judge Jules.
If you were stranded on a desert island what three things would you want with you?
My girlfriend, decks and a celebrity chef.
Favourite things
| | |
| --- | --- |
| Car Classic | SLK 320 |
| Film | Kevin and Perry go large |
| Comedian | Lee Evans |
| CD | Volume by Paul Van Dyke |
| Book | The DJ magazine |
| Actor | Adam Sandler |
| Actress | Megan Fox |
| Drink | An exotic cocktail |
Ulster Star
14/08/2009