Laura Abernethy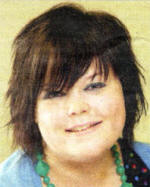 Laura Abernethy, 17, from Dromara is a pupil at Wallace High School and has just finished her AS Levels. She is interested in history and politics and wants to go on to study them at university. She loves music, art and fashion and likes being creative.
What do you like doing on your day off?
There's nothing like a bit of retail therapy. I like going out with friends and spending time with my family. I also enjoy reading, drawing and baking.
What's your favourite meal?
I love barbecues outside in the garden when the weather is nice. Eating outside is so much more relaxed and some sunshine always makes you smile.
Your proudest moment?
Getting my GCSE results. I worked very hard and ended up doing better than I expected, so I was very pleased.
Most frightening moment of your life?
I had my first driving lesson last night and I was completely terrified.
Describe your taste in clothes?
I like pretty dresses and slouchy cardigans. I spend a lot of money on accessories because they can be used in so many different ways.
What would you do if you won £1m?
Donate some to charity, buy a car and a house somewhere nice, like the South of France to escape the never ending rain we seem to get. I'd give all my family and friends some money too.
Your most embarrassing moment?
I've had many. I tend to fall over quite a lot. I fell over backwards at my bus stop once in front of about 30 people and ended up breaking my elbow. The worst thing was I had broken the other elbow just a few months before.
What music do you like?
I like indie and rock music. My favourite band is Snow Patrol. Kings of Leon, Dirty Pretty Things, The Libertines, Muse, Taking Back Sunday and The Killers are a few of the others that I really like .
Sports person you most admire?
I like Venus and Serena Williams because they have shown that women can be just as good as men, if not better.
Describe your best ever holiday?
My best ever holiday was when I went to Disneyland when I was younger. It's just so magical. I loved all the Disney characters and the rides were great fun. It was also really warm that summer which helped. I'm going to Norway in October.
What is your greatest ambition?
I want to go to University next year and eventually become a journalist. I'm also learning to drive, so at the minute my ambition is to pass my driving test.
Which celebrity would you like to meet?
Gary Lightbody from Snow Patrol because when I've seen them in concert, he seems so funny and down to earth. I also love Sir Alan Sugar and Gok Wan because he's just so lovely.
Favourite things
| | |
| --- | --- |
| Car | Minis, especially old style. |
| Film | Casablanca |
| Comedian | Alan Carr |
| CD | Up the Bracket by the Libertines |
| Book | Where Rainbows End by Cecelia Ahern |
| Actor | Robert Pattinson |
| Actress | Reese Witherspoon |
| Drink | It depends on my mood. |
Ulster Star
26/06/2009