LOUISE SMITH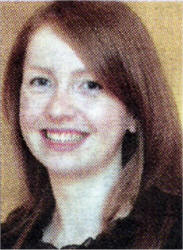 LOUISE Smith, 28, originally from Portglenone, works as the Community Arts Officer at the Island Arts Centre. Her job involves working with local community and voluntary groups helping them to develop arts programmes and activities. She is currently working on co-ordinating this year's Mayor's Parade which will take place on Saturday May 9.
What do you like doing on your day off?
I love to get down to Portglenone to catch up with my family, especially my two nieces who are aged 1 and 3. My husband John works irregular hours so on the rare occasions when we both have a day off together we love to just take it easy and hang out together.
If you were to choose your favourite meal what would it be, where and why?
I have a really sweet tooth so for me dessert is always the most important part of a meal. My all time favourite is a Caramel Crunch bun from any of the Clements coffee shops in Belfast.
What has been your proudest moment?
Climbing Mount Princeton in Colorado a few years back. Its one of the Rockies and is over 14,000 feet high.
What was the most frightening moment of your life?
An underground ghost tour in Edinburgh. I'm easily spooked so it was absolutely terrifying.
How would you describe your taste in clothes?
I live in my Converse trainers but also love bright colours and anything a bit quirky.
What would you do if you won a million pounds?
Be very sensible and save a bit, then treat my family and friends, pay off the mortgage, and go travelling.
What was your most embarrassing moment?
Falling flat on my face in the middle of Bow Street a couple of months ago. My bags of shopping went flying and I got a cheer from a group of school kids. Mortifying.
What music do you like?
Music is probably one of my biggest passions and I have really wide tastes. Generally anything with plenty of guitars would top the list.
Describe your best ever holiday. What would your dream holiday be?
Probably my most memorable holiday was a 3-month trip that John and I did about 5 years ago through New Zealand, Australia, Singapore, Malaysia and Thailand. We also went to Asia for our honeymoon, going from Hong Kong up to Beijing which was a real adventure. My dream holiday would be taking a couple of months to explore South America, especially Peru.
If you could spend a day with a celebrity whom would you choose?
Probably Stephen Fry.
If you were stranded on a desert island what three things would you want with you?
Ipod, stack of books, and my mobile to phone for rescue.
Favourite things
| | |
| --- | --- |
| Car - | My little red Suzuki Swift |
| Film - | The Princess Bride |
| Comedian - | Frankie Boyle |
| CD - | 'Appetite for Destruction' by Guns'n'Roses |
| Book - | 'The Secret History' by Donna Tartt |
| Actor - | Johnny Depp |
| Actress - | Judi Dench |
| Drink - | Hot Chocolate |
Ulster Star
03/04/2009