Lynne Davison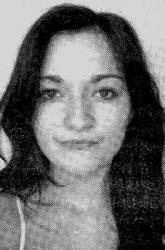 Lynne Davison, 22 from Upper Ballinderry is a Writer, Director and a Photographer. She is holding an Exhibition at Art Act Gallery in Castle Street from November 13 until November 26.
What do you like doing on your day off?
Putting on baggy comfortable clothes and making a selection of DVD's to spend the day with.
If you were to choose your favourite meal what would it be, where and why?
I lived and studied in Edinburgh, while I was there I came across a delightful Italian restaurant called Bar Italia on the Loithian road.
What was the most frightening moment of your life?
I was out for the night and had my drink spiked. I ended up being taken to the hospital in an ambulance. Kept in for hours while I was unconscious letting the substance leave my system, the entire experience was terrifying.
How would you describe your taste in clothes?
I try to stay away from following trends and just stick to what suits me and what I'm comfortable in. My look changes day to day depending on what I'm feeling like, one day I'll wear a pretty dress and the next baggy jeans and a faded T-Shirt, but I have what some might say is too many dresses but I just cant help myself.
What would you do if you won a million pounds?
I would give my family share to do whatever they wanted with. Give a considerable amount to various charities. Buy a house, buy my own Production house and Photography studio and fully kit them out and then fund one of my feature films.
What music do you like?
I have a very wide taste in music from Heavy Metal to Classical but my favourites would be ASWFA, Juliette and the licks, AC DC, Biffy Clyro and Florence and the machine
Describe your best ever holiday. What would your dream holiday be?
The best holiday I've been on would have to be when I was 7 and my Mum and Dad took my brother sister and I across Europe in the caravan. My dream holiday would be backpacking across the world.
What is your greatest remaining ambition?
To be recognized as a Writer and Director of feature films and a recognized Northern Irish Artist.
If you could spend a day with a celebrity whom would you choose?
That's a toss up between Lucy Lawless who played Xena and Patrick Stewart from Star Trek and X-men and endless other films and productions.
If you were stranded on a desert island what three things would you want with you?
My laptop with unlimited battery, my Pentax and a snorkelling kit.
Favourite things
| | |
| --- | --- |
| Car | 69 Ford Mustang |
| Film | United States of Leland. |
| Comedian | Tommy Terrian |
| CD | Maybe the Forest Gump soundtrack |
| Book | Anna Swir - Fat like the sun Actor Patrick Stewart |
| Actress | Ellen Paige |
| Drink | Five Alive Berry Blast |
Ulster Star
13/11/2009