Mark McGivern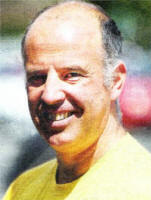 Mark McGivern, 40, is Director of Development for local Charity 'Angling First Ltd' which aims to introduce the sport of angling to young people as a positive alternative to engaging in anti-social activity. He is married with three children and is a fishing fanatic.
What do you like doing on your day off?
Enjoying time with my family if I am not out fishing.
If you were to choose your favourite meal what would it be, where and why?
The hottest curry I can get - usually a lamb phall from my favourite Indian.
What has been your proudest moment?
Changing government policy to allow the introduction of Carp into N.Ireland for angling purposes.
How would you describe your taste in clothes?
Functional
What would you do if you won a million pounds?
I would set up a trust fund and with what little interest there would be at the moment I would make sure that small local charities would be able to benefit.
What was your most embarrassing moment?
Way too many to mention.
What music do you like?
New Order, Faithless - that sort of stuff.
What sports person do you most admire?
The young people who participate in the special Olympics, for me they are all stars.
Describe your best ever holiday. What would your dream holiday be?
I have just returned from a holiday in New York with the family and despite my reservations on travelling, I really enjoyed the break.
What is your greatest remaining ambition?
To be right about something that my wife insists I am wrong about, hasn't happened yet.
If you could spend a day with a celebrity whom would you choose?
Lady Margaret Thatcher and if possible also Sir Alan Sugar
If you were stranded on a desert island what three things would you want with you?
Family, Fishing Rod and don't think I need anything else.
Favourite things
| | |
| --- | --- |
| Car: | One that goes |
| Film: | Layer Cake |
| Comedian: | Jim Davidson, very good comedian and an excellent fisherman as-well. |
| Book: | Animal Farm |
| Actor: | James Nesbitt |
| Actress: | Emma Thompson |
| Drink: | Buttermilk |
Ulster Star
19/06/2009