MARY KURIAN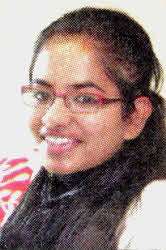 MARY Kurian is a Year 12 student from St Patrick's High School Lisburn who recently spent a week in the Ulster Star. She describes herself as a positive person who likes to smile.
What do you like doing on your day off?
Finish school work if there is any and relax by watching movies or going out shopping.
If you were to choose your favourite meal what would it be, where and why?
If I had to choose my favourite meal it would be any Indian food especially the ones that my mum makes as she is a wonderful cook
What has been your proudest moment?
My proudest moment was when I received an award for regular attendance in school for 4 years and the following week my picture was in the local newspaper - the Star.
What was the most frightening moment of your life?
The most frightening moment of my life was when I was watching 'Jeepers Creepers'
How would you describe your taste in clothes?
I wear clothes that I feel comfortable in.
What would you do if you won a million pounds?
If I won a million pounds I would like to travel around the world, give some to the charity and save the rest
What was your most embarrassing moment?
The most embarrassing moment of my life was when I went up to a stage to receive the first prize for a raffle number '66' but they sent me back because I had the raffle ticket upside down
What music do you like?
I love RnB and hip-hop
What sports person do you most admire?
Usain Bolt because he has such a cool personality
Describe your best ever holiday. What would your dream holiday be?
My best ever holiday was two years ago when I went to Dubai and spent a week there with my cousins. I then spent the following three weeks with more cousins whom I had never met, in India. It was the most memorable holiday ever because we went to visit several famous cities and monuments and I loved every second of it. My dream holiday would be to go to LA.
What is your greatest remaining ambition?
To write a book
If you could spend a day with a celebrity whom would you choose?
If I could spend a day with a celebrity I would choose Todd Lasance because he my favourite character in the Australian soap Home and Away which I love
If you were stranded on a desert island what three things would you want with you?
If I was stranded on a desert island I would take lots of water, my best friend and a pilot with a plane
Favourite things
| | |
| --- | --- |
| Car - | Lambourghini |
| Film- | Final Destination |
| Comedian - | Jack Black |
| CD - | Beyonce I Am Sasha Fierce |
| Book - | Noughts & Crosses |
| Actor - | Will Smith |
| Actress - | Jennifer Aniston |
| Drink - | Tea |
Ulster Star
23/10/2009