Matthew Forsythe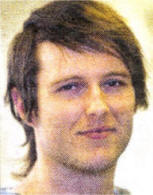 Matthew Forsythe, 28, Stoneyford, is a self-employed Joiner. He is also a very keen actor with many local amateur dramatic company's and recently gained entry to drama college in London.
What do you like doing on your day off?
I like to chill out maybe with family or friends, read or go to the theatre.
If you were to choose your favourite meal what would it be, where and why?
It would have to be a meal from my mum or my Nan, My Nan's meat pie or my mums spaghetti Bolognese.
What has been your proudest moment?
Every time I step out onto the Belfast Opera House stage, probably more so when I played my first big lead, Danny Gilmartin in New Lyric Operatic Company's Calamity Jane in 2008. Gaining my Licentiate Diploma in Musical Theatre from the London College of Music this year was also a very proud moment, a lot of work and stress but was worth it in the end.
What was the most frightening moment of your life?
Well its in the process of happening, moving to London in September to drama college is exciting but also very scary. Leaving family, friends and a great girlfriend.
How would you Describe your taste in clothes?
Very casual sometimes smart.
What would you do if you won a million pounds?
I'd sort my family out first then give to a few charities. Then enjoy. Oh I'd love to build my own theatre.
What was your most embarrassing moment?
The time I was walking into Lisburn from school, I remember looking at a girl on the other side of the road and walking straight into a lamp post, not once but twice on the same street on the same day.
What music do you like?
I have a wide range of music interest. Oasis, Neil young, Saw Doctors, Snow Patrol, Jonny Cash and musical theatre.
What sports person do you most admire?
Being a life long Chelsea fan I have always been a fan of Gianfranco Zola.
Describe your best ever holiday. What would your dream holiday be?
I don't really have a dream holiday, I just like a holiday where I can relax with plenty of sun sea with friends. I suppose I've always wanted to go to Italy maybe Rome.
What is your greatest remaining ambition?
Definitely to appear on the West End stage in a leading role. I have many parts I want to play but probably more than any I would love to play my dream role of Micky in Blood Brothers.
If you could spend a day with a celebrity whom would you choose?
Elaine Paige would be my first, she is one of the biggest west end/Broadway leading ladies.
If you were stranded on a desert island what three things would you want with you?
An audience then a microphone, water would be the other obvious one so I don't ruin my voice.
Favourite things
| | |
| --- | --- |
| Car: | Something sporty. |
| Film: | Anchorman, Billy Elliot. |
| Comedian: | Peter Kay |
| Book: | The Davinci code. |
| Actor: | Pete Postlethwaite, Jonny Depp |
| Actress: | Meryl Streep. |
| Drink: | Nice cold Guinness. |
Ulster Star
15/05/2009