MAUREEN McCoy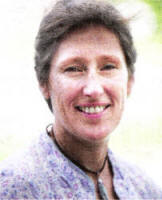 MAUREEN McCoy 40, from Drumlough, recently completed the gruelling English Channel swim from Dover to Weston Beach, France in 14 hours. She is a swimming teacher at Lisburn City Swim Club.
What do you like doing on your day off?
I love to hit the Mournes - boots on and rucksack on my back.
If you were to choose your favourite meal what would it be, where and why?
Salmon, baby potatoes and broccoli followed by homemade lemon meringue pie with far too much cream at home with my family and friends with nice wine.
What has been your proudest moment?
Finishing the channel swim - 1 danced on the beach.
What was the most frightening moment of your life?
Waking in the middle of the night, sleeping out in the Bush in Central Australia and I thought I had a scorpion on my sleeping bag.
How would you describe your taste in clothes?
Eclectic.
What would you do if you won a million pounds?
Buy land and plant trees.
What was your most embarrassing moment?
Too many to mention.
What music do you like?
Everything from rock to jazz.
What sports person do you most admire?
Hannah Shields - Everest climber from Northern Ireland. We talked together on a trip up Ben Nevis and she was very encouraging about my Channel plans.
Describe your best ever holiday. What would your dream holiday be?
My honeymoon in Nepal - climbing mountains.
What is your greatest remaining ambition?
Slipping into old age disgracefully.
If you could spend a day with a celebrity whom would you choose?
Indiana Jones.
If you were stranded on a desert island what three things would you want with you?
Swim suit, cap and goggles. I'll swim home.
Favourite things
| | |
| --- | --- |
| Car | Old battered four wheel drive |
| Film | A matter of life and death |
| Comedian | Billy Connolly |
| CD | Best of Billy Joel |
| Book | Lord of the Rings |
| Actor | Kevin Spacey |
| Actress | Goldie Hawn |
| Drink | Bombay Sapphire gin and tonic |
Ulster Star
31/07/2009