Michelle Brown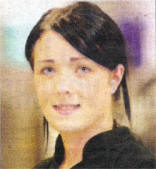 Michelle Brown, 22, attended the first Beauty & Nails Liquid and Powder Foundation course and has just been employed full time at New York City nails Tempest Lisburn nail bar. She is very interested in art and fashion and was studying for a degree in fashion design before deciding to take a complete career change and do the nycn nail courses.
What do you like doing on your day off?
I love getting up and taking myself off shopping for the day.
What's your favourite meal?
My favourite food is a hot and spicy pizza in Goodfellas because its great if your really starving and need some comfort food.
What has been your proudest moment?
Passing my driving test and going to university.
What was the most frightening moment of your life?
When I crashed my first car into a friend's wall, I cried for about a week.
How would you describe your taste in clothes?
I really love clothes, fashion and shopping. I think I have quite a unique style, love being quirky and wearing things that no one else has.
What would you do if you won a million pounds?
Go nuts, buy a house on the other side of the world and live like a queen. Id also give some away to friends and family.
Most embarrassing moment?
I worked in an ice cream parlour and one Christmas got new high shoes, wore them to work in the snow and ice and fell flat on my face in front of the whole road.
What music do you like?
I love a bit of everything, especially the Kings of Leon. I also love some of the 80s classics.
Describe your best ever holiday. What would your dream holiday be?
Best holiday ever was a week in Portugal with all the girlies, funniest holiday ever. Dream holiday would be a month in the Caribbean.
What is your greatest remaining ambition?
To open my own nail salon.
If you could spend a day with a celebrity who would you choose?
Ricky Gervais from the Office because he just makes me laugh so much.
If you were stranded on a desert island what three things would you want with you?
Cigarettes, makeup, straighteners.
Favourite things
| | |
| --- | --- |
| Car: | Hummer |
| Film: | Beetlejuice |
| Comedian: | Alan Carr |
| CD: | Kings of Leon |
| Book: | Adrian Mole |
| Actor: | Ben Stiller |
| Actress: | Winona Ryder |
| Drink: | Vodka and Coke |
Ulster Star
24/04/2009