Nicola Ryan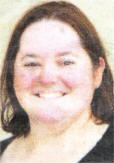 Nicola Ryan, 35, is a photographer with Ideal Photography - a new business which is based in Lisburn.
What do you like doing on your day off?
I like to visit different places in Ireland. I always take the camera with me and I'm always on the lookout for a photo opportunity.
If you were to choose your favourite meal what would it be?
Apart from home cooked food when I get the time, my favourite place to eat out is Ed's Bar & Grill in Lisburn. The staff are really friendly, they have got to know us and always come over for a chat. My favourite dish from Ed's is the Nachos.
What has been your proudest moment?
Being involved with setting up the business, it has taken a lot of time, effort and patience to get to the point where we can now take bookings, making sure we provide the service, quality, friendliness and value that everyone expects and more.
What was the most frightening moment of your life?
Being involved in a car crash in my early 20s. An oncoming mini bus had decided to use my car as a ramp as I was driving. My car was completely totalled but I was so lucky to have survived, coming away with just a few scratches.
How would you describe your taste in clothes?
I'm very much a T-shirt and jeans girl, unless of course I'm photographing a wedding when I dress appropriately.
What would you do if you won a million pounds?
I'd definitely expand the business and get a shop somewhere to showcase our work. I'd then build my own house, getting all the luxury extras and filled with gadgets. I'd have a sound system in every room, a separate building for a photography studio and it would have to be built out in the countryside with a great view.
What was your most embarrassing moment?
My earliest memory of an embarrassing moment was at school, during a school production. At the break I had to announce there was tea and coffee at the staff coffee bar, however I was so nervous that when I got up to the microphone I said "There is tea and coffee in the scarf toffee bar." I went crimson, forgot the microphone was still on and swore.
What music do you like?
Snow Patrol is my favourite band at the minute but I listen to lots of different music, it just depends on what mood I'm in. I quite like the music coming from local bands in Northern Ireland.
Describe your best ever holiday.
I went to Florida a few years ado and absolutely loved it. If I could I d love to travel to the Maldives as well.
If you could spend a day with a celebrity whom would you choose?
Whoopi Goldberg without a doubt. She's so funny.
If you were stranded on a desert island what three things would you want with you?
Satellite phone, camera and my cat Georgie.
Favourite things
| | |
| --- | --- |
| Car | Peugeot 207 |
| Film | The Color Purple and Superb ad |
| Comedian | Alan Carr |
| CD | Snow Patrol — Eyes Open |
| Book | Marley and Me |
| Actor | Patrick Swayze |
| Actress | Whoopi Goldberg |
Ulster Star
01/05/2009