Samantha Moore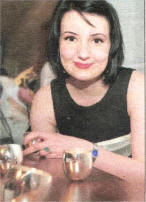 Samantha Moore, 22, from Drumlough, Hillsborough is a silversmith and also a counsellor. The talented new graduate picked up the top business award for craft at the University of Ulster's annual prize-giving ceremony. Supported by Craft NI and Invest Northern Ireland, the third annual Craft in Business Award recognises emerging craft-designers who are fuelling the creative economy with an innovative approach to their craft.
What do you like doing on your day off?
I don't get many of them but generally relax with good food and a good book.
If you were to choose your favourite meal what would it be?
Suckling hog medallions on apple mash from the Pheasant or just a big bowl of plain pasta smothered in butter, followed by anything chocolate
What has been your proudest moment?
When I was proposed to at the Belfast Giants game in front of 3000 people by my boyfriend dressed in the mascot's gorilla suit.
What was the most frightening moment of your life?
A bad car accident involving some ice, my first car and a big mean wall.
How would you describe your taste in clothes?
Whatever is clean.
What would you do if you won a million pounds?
Run away and travel a lot.
What was your most embarrassing moment?
The same as my proudest.
What music do you like?
Embarrassingly I love my musicals, but you can't beat 80's glam rock.
Describe your best ever holiday. What would your dream holiday be?
My fiancé and I took a trip to Vancouver then got on a cruise ship and went up Alaska. Words can not describe how beautiful it is there.
What is your greatest remaining ambition?
To go on and work towards gaining a PhD.
If you could spend a day with a celebrity whom would you choose?
Dita Von Teese
If you were stranded on a desert island what three things would you want with you?
Factor 50 sun cream
Favourite things
| | |
| --- | --- |
| Car - | My car, a Honda Civic |
| Comedian - | Ed Byrne |
| CD - | Metalica S&M |
| Book - | Wuthering Heights |
| Actor - | Robert Downey Junior |
| Actress - | Helena Bonham Carter |
| Drink - | Coffee |
Ulster Star
03/07/2009